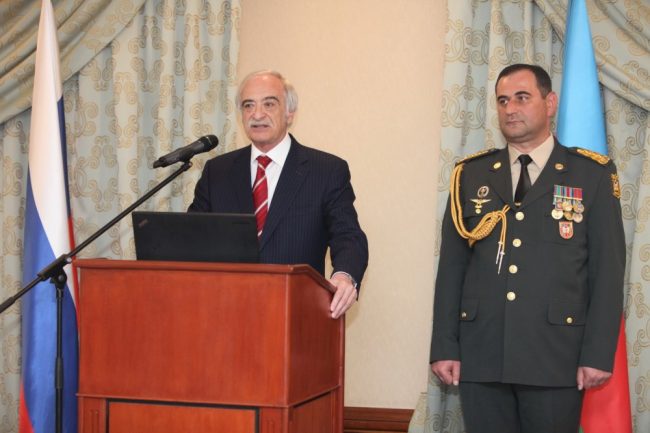 A solemn ceremony was held in Moscow on the occasion of the 100th anniversary of the Azerbaijani Armed Forces, APA's Moscow correspondent reports.
Ambassadors, military attaches, diplomats and representatives of the diaspora took part in the event organized by the Azerbaijani embassy in Russia.
The ceremony was opened with an opening speech by Ambassador Polad Bulbulloglu, who noted the importance of creating an army in the life of each country and people: "There is a very correct idea in Russia: Senior friend of the state is its army and navy. This is indeed so. If you want really independent, you must have a strong army. Otherwise, it is difficult to be independent. I was very lucky today, I attended a parade in Baku in honor of the 100th anniversary of the creation of the Azerbaijani Armed Forces, listened to the speech of the Supreme Commander-in-Chief, President Ilham Aliyev, observed military equipment. With a feeling of great pride, I'm still an older man, we were born in the Soviet Union. Then they were proud of the Soviet army, we were proud of the victory of the Soviet people in the Great Patriotic War. This victory united our peoples forever. Whatever the transformations, no matter what happens, the Soviet army in 1941-45 accomplished a feat that ended with the installation of the flag over the enemy's lair. Today I was sitting on the rostrum, and when our soldiers, officers, representatives of various combat arms marched through the drill, I watched with great pride. When the modern technology was sold, purchased in different countries, I realized that really our Azerbaijani army today after 100 years can repel any aggression and fulfill any order of the supreme commander-in-chief.
President Ilham Aliyev still stressed that we want to solve the Karabakh problem peacefully, through negotiations. As the supreme commander-in-chief, as a father, as a grandfather, he does not want young people to die on either side. Therefore, we are doing everything to resolve this issue peacefully. But the patience of the Azerbaijani people and the Azerbaijani leadership is not unlimited, so we place great hope on the Russian side, as the co-chairman of the Minsk Group, on the Minsk Group itself to ensure that this issue is resolved fairly in the very near future.
Once again as the spectator sitting on the paradeI want to repeat that today there are all possibilities to solve this issue by force. But I would very much like to resolve this issue without bloodshed. Today we watched the Azerbaijani Air Force, which made a huge impression.
One of the first decrees of the ADR in 1918 was a decree on the establishment of the army. Because the fathers of the founders of the republic were well aware that without the sun, a country can not be sovereign."
The Ambassador expressed his gratitude to the guests for participating in the event.
Speaking at the ceremony, the military attache of the Azerbaijani embassy in Russia, Colonel Nadir Shahbazov, spoke about the historical stages of the creation and formation of the Azerbaijani Armed Forces. He recalled that the first decision of the ADR government on June 26, 1918 was the formation of the first national division and the Ministry of Defense: "General Samadbek Mehmandarov was appointed Minister of Defense, General Aliaga Shikhlinsky – deputy, and General Samad bey Shulkevich – Chief of the General Staff. 1919 was decisive in the process of forming the army. In January 1920, the formation of the army was completely completed. "