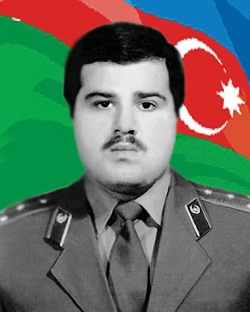 (20.12.1956, Baku city – disappeared) – National Hero of Azerbaijan (7.7.1992)
He was born in an intellectual family in Baku city on the 20th of December, 1956. He finished school number 134 in Baku in 1972. And in 1976, he graduated from Azerbaijan State University (the present Baku State University) the faculty of law. In 1981, he was working as chief legal adviser in the Ministry of Justice of the Republic. In 1982 he graduated from the Higher Military School in Minsk and returned to Baku where he began to work in the National intelligence agency.
As an officer, he was very troubled with the war over Azerbaijani lands.
That is why he spent all his time and put a lot of efforts in creation of the National Army.
Since 1989, RiadAhmadov was often visiting the borderlines of Qarabagh. And he had already become an active participant in the battles there.
In 1991, he won high award for showing extreme courage and bravery in the operation of releasing Chaykend – one of the key strategic points of Armenians.  He had the rank of lieutenant-colonel.
In January 1992… he created a special battalion by recruiting the soldiers from Russo – Afgan war. On January 22, he was sent with his battalion to Shusha. January 26… another difficult combat mission… Riad takes 11 people with him. The group was to help those, involved in the cleaning of the enemy that created the biggest obstacle in the place called Dashalti between Shusha and Lachin route.
The situation was very difficult and in the battle that was unequal, Riad disappeared. He is still considered missing.  There was no information about his fate.
He was married and had two daughters.
Ahmadov Riad was posthumously named the "National Hero of Azerbaijan" by the decree # 833 of the president of the Azerbaijan Republic on 7th of July 1992. Currently the secondary school number 203 is named after him.
http://www.milliqahramanlar.az/hero/59