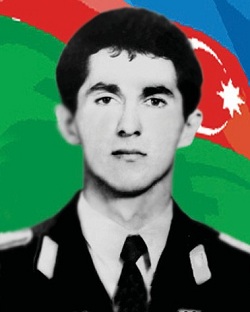 (1.9.1969, Kosalar village, Khojali region – 26.9.1991, Khojali region) – National Hero of Azerbaijan (8.10.1992, after his death)
He was born on September the 1st, 1969, in the village of Kosalar, Khojali region. When he was 6 years old, his family moved from Kosalar village to Novruzlu village in Aghdam region. He was raised and finished high school there. And then he served in the army in the city of Kaliningrad in Russia. He was discharged from the army in 1988.
He stayed there for a while and started working. Then he went back home and started working in a vineyard state farm.
Natig Akhmedov's, physical strength was different from his friends. He was tall and strapping and always able to adequately protect the honor of the school where he studied in various sports competitions.
He had not yet graduated from high school when he was invited to the Azerbaijani football team in Aghdam region. Later, he studied martial Arts – the art of karate in Riga.
He was appointed to the post of inspector of Highway Patrol at the Department of the Internal Affairs in Khojali region when there were countless atrocities committed by the armenians in Khojali region of Qarabagh province. At that time the villages located in the mountainous part of Qarabagh, including Shusha were extremely difficult to be visited. Armenians ambushed every road, and committed incessant terrorist attacks.
N.Ahmedov had to repeatedly face the death when he was escorting passenger buses traveling on the route Aghdam-Shusha to ensure the safety of the passengers.  Many times he had a fight with armenians.
On the 26th of September 1991, along with his colleague Ali, he had to go through Asgeran in order to go to work in Khojali. But two friends and two compatriots were not able to reach their destination.  Their car was ambushed by the armenians who opened heavy fire against them near Asgeran Fortress. The lives of two young men who loved their country more than anything were taken.  One of them was Ahmedov.
He was not married.
Ahmedov Natig Ilyas was posthumously awarded the title of "National Hero of Azerbaijan" by the decree no. 264 of the president of the Azerbaijan Republic on 8th of October 1992. He was buried in Novruzlu village of Aghdam region.
http://www.milliqahramanlar.az/hero/58