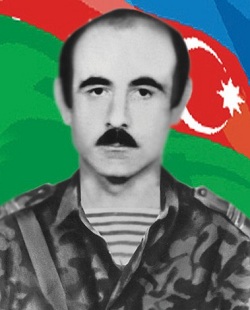 (14.7.1957, Krasnovodsk city, Turkmenistan republic – 11.10.1992, Lachin region) – National Hero of Azerbaijan (5.2.1993, after his death)
He was born on the 14th July 1957, the Republic in the town of Krasnovodsk of Turkmenistan republic. In 1967, the family moved to the city of Ali-bayramli. And Tahir continued his education in vocational schools and graduated from the eighth grade here in 1972. After he obtained a driving license in 1977, Tahir was called up for military service from the Military commissariat of Ali Bayramli city. And he was dismissed from the army in 1979 as an infantry platoon commander. He moved to Baku in 1987after living for some time in Kazakhstan. Tahir Bagirov took part in the National Liberation Movement in Azerbaijan beginning from 1988. For a time he worked as a driver in Thermal – energy facility in Khatai district, and in 1990 when the tragedy of January 20 happened, he perpetrated in the rescue, of many people and showed a great effort and took an active part in taking them to a safer places
In January 1992Tahir, voluntarily joined the militia training and after 2 months of training, he was appointed to the board in helicopter unit 843, MI-24 as a shooter. Tahir Bagirov showed great courage in transportation of wounded civilians at the time of the Khojaly tragedy. He contributed to countless battles in Fizuli, Agdere and Lachin regions, and with his accurate ability to shoot the helicopter was able to fly to the rescue of civilians in those regions.
On 11th of October 1992 was the next combat mission. On the way back from Sefian villge of Lachin region, his helicopter was shot by armenians when they were returning after rescuing our soldiers from the surrounded the village of Sefian.  All of the crew was killed.
He was married and had two sons.
Bagirov Tahir Aminaga was posthumously awarded the title of "National Hero of Azerbaijan" by the decree # 457 of the president of the Azerbaijan Republic on February 5, 1993.
He was buried in the alley of Martyrs in Baku.
Secondary school number 59 in the district of Hazi Aslanov is named after him. And there is also a bust of him in the same school. One of the streets is named after the hero in the village of Amirjan, Surakhani.
http://www.milliqahramanlar.az/hero/45