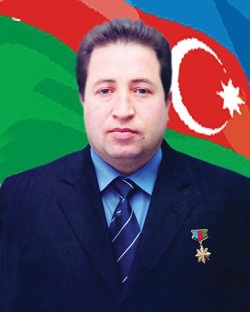 (6.6.1967, Kosalar village, Khojali region) – National Hero of Azerbaijan (25.2.1997)
He was born in Kosalar village of Khojali region on the 6th of June, 1967. He finished secondary school in 1985 and was called for military service. Movsum was demobilized from the Army in 1987 and returned back to his country. He first worked within Shusha Electricity Network in 1988 and two years later was accepted to the Department of Internal Affairs.  The times in Azerbaijan were very difficult and armenian gangsters land claims were getting even worse. The country needed local police officers against the offenders. Therefore, new police forces were created in the bordering regions in order to protect the civilians. One of the Police Departments was created in Meshali village of Khojali region. Movsum Mammadov enrolled in the Department and stood in the defense of the country in the most needed time. He fought against the invaders from 1992 till 1993. And he also showed a great courage when trying to save the civilians during bloody Khojali Massacre.
Movsum was later appointed as a commander of Police Patrol Department in Shusha region in 1994.
He has always been exemplary employee no matter what position he held. Thus, he was promoted to the position of the commander of PPS for his great service in 1995.
M.Mammadov graduated from Police Academy in 1998. Currently, he works as a Chief of Police Department of Shusha region.
He is married and has two children.
Mammadov Movsum Shahin was awarded the title of the "National Hero of Azerbaijan" by the decree # 553 of the president of Azerbaijani republic on the 25th of February, 1997.
http://www.milliqahramanlar.az/hero/244