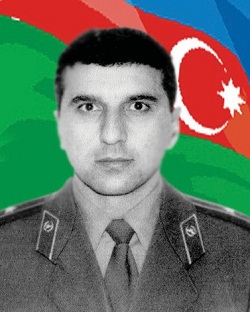 (3.12.1953, Baki city – 13.6.1992, Aghdara region) – National Hero of Azerbaijan (23.6.1992, after his death)
He was born on the 3rd of December, 1953 in Baki city. He started his primary education at school # 164 but finished school # 46 in 1971. Shikar was admitted to the School of High Commander of Combine Arms in the same year. He started his career as a Company Commander in one of the military units in Primorsk province after finishing the school with high grades in 1975. But Shikar was not satisfied with his education and decided to master it and make even better. Thus, he was admitted to the Military Academy after Frunze in Moscow city in 1986. After graduating from the Academy, he was promoted and appointed as a Chief of Staff in one of the Military units in Lugansk city of the Republic of Ukraine with the rank of Lieutenant Colonel. He was also trained in Germany.
He came back to Azerbaijan after the Black January event in 1990. Shikar was first appointed as a Head of the Department of Headquarters of Civil Defense Operations. Later, he was appointed as the Deputy of the Main Headquarters within the Ministry of Defense. He was indeed a good strateg and all of his operations were successful. He visited Goranboy village and prepared a plan of defense of the region and was leading the operation by himself. Thus, several villages of Goranboy region were liberated from the enemy invasion thanks to his operations. Then he visited Aghdara region where again had several successful operations and a lot of enemy manpower and military equipment was destroyed as well. In one of his successful operations the bombarding of Tartar region by the enemy missiles was finally over. Considering all his successful operations, he was promoted to the rank of a Colonel. But a lot far more difficult operations were still ahead of Shikarov. He had to return back to Aghdara region on the 13th of June, 1992 once again. The enemy would not surrender and kept resisting. The situation was very difficult and uncertain. Shikar Shikarov made the battalion to rise up against the enemy and finally armenians were forced to retreat. But, Shikarov himself heroically died in this battle.
He was married and survived by three children.
Shiikarov Shikar Shukur was posthumously awarded the title of the "National Hero of Azerbaijan" by the decree # 6 of the president of Azerbaijani republic on the 23rd of June, 1992.
He was buried in the Alley of Martyrs in Baki city. The secondary school of Sundu village in Gobustan region is named after the hero.
http://www.milliqahramanlar.az/heroes/page/208