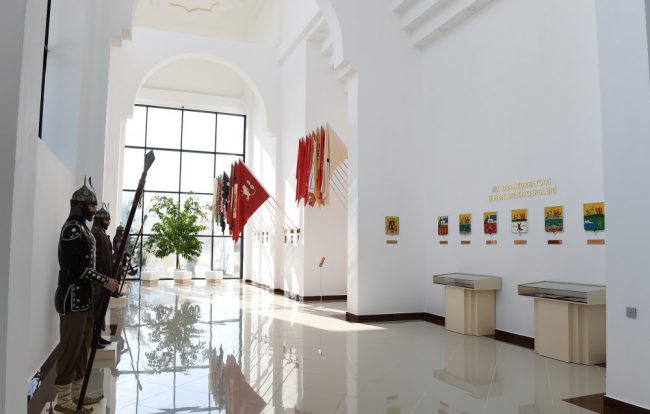 President of the Republic of Azerbaijan Ilham Aliyev has today attended the inauguration of Flag Museum in Sabirabad district.
The head of state cut the ribbon symbolizing the opening of the museum.
The construction of the Flag Museum started in February and ended this September. The building of the museum features two exhibition halls and a number of other rooms.
The museum`s collection features the map and flags of the khanate period in Azerbaijan, medieval warriors` clothing, coats of arms of the Azerbaijani cities dating back to the 19th century, ancient coins, constitutions, emblems, flags, postage stamps, orders and medals relating to Azerbaijan Democratic Republic, Azerbaijan SSR and independent Republic of Azerbaijan.
The area of the square of the Flag Museum has recently been expanded to two hectares. Landscaping work was carried out, green areas were laid out, new lightning system was installed here.