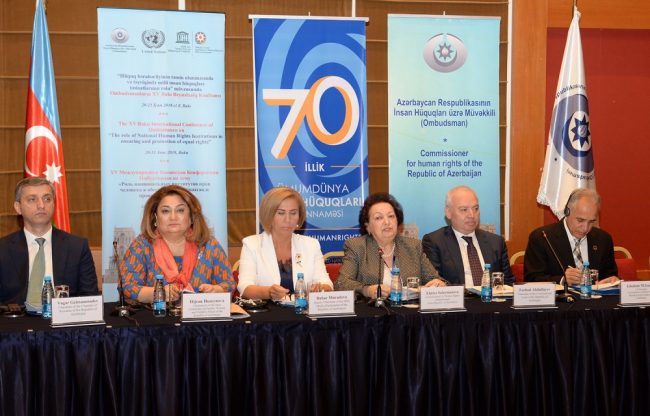 The 15th Baku International Conference of Ombudspersons has kicked off in Baku. Entitled "The role of national human rights institutions in ensuring and promoting human rights", the conference is dedicated to the Human Rights Day in the Republic of Azerbaijan, the 100th anniversary of establishment of the Azerbaijan Democratic Republic, the 95th anniversary of Azerbaijan's national leader Heydar Aliyev and the 70th anniversary of the adoption of the Universal Human Rights Declaration.
The conference participants included state and government officials, foreign ombudspersons, international human rights experts, MPs, representatives of diplomatic corps accredited in Azerbaijan, as well as NGOs and mass media.
In her remarks, Azerbaijani Ombudsperson Elmira Suleymanova spoke of rapid development of Azerbaijan, the activities of the Azerbaijan Democratic Republic, the first legal and secular republic in the Moslem East, noting that the ADR ensured women's suffrage still at the dawn of the 20th century.
Elmira Suleymanova highlighted the major world areas where the Republic of Azerbaijan achieved great successes in the last decades.