Azerbaijani president's assistant for public and political issues Ali Hasanov met with a delegation of heads of municipalities of the Cukurova Municipalities Union of Turkey in Baku Nov. 8.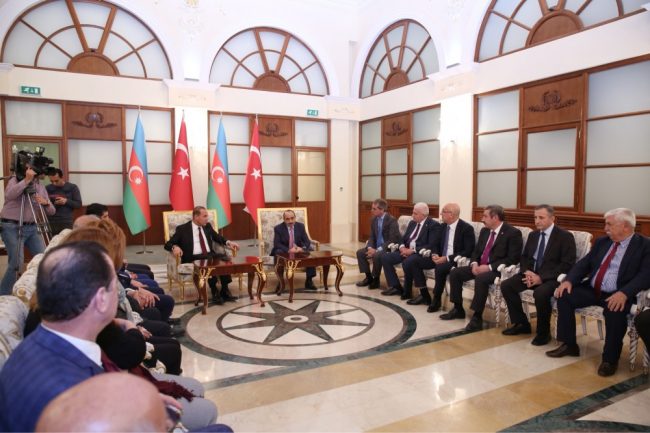 At the meeting, Hasanov said that Azerbaijan and Turkey are two fraternal states with common national and moral values and historical roots.
"The expression "we are one nation, two states" by Azerbaijan's national leader Heydar Aliyev and the statement "Azerbaijan's joy is our joy, its sorrow is our sorrow" by Ataturk, the founder of the Republic of Turkey, are the thoughts defining the philosophy of Azerbaijan-Turkey relations," noted Hasanov.
He said that as a result of joint efforts of President of Azerbaijan Ilham Aliyev and President of Turkey Recep Tayyip Erdogan, the relations between the two countries have strengthened and reached the level of strategic partnership.
The cooperation between the relevant government agencies and local self-governing bodies of Turkey and local executive authorities of Azerbaijan is of great importance in further development of mutual trust between Azerbaijan and Turkey, added the Azerbaijani top official.
In this sense, it is essential to organize mutual visits, said Hasanov.
Noting the support of local municipalities in the effective activity of Azerbaijan's diaspora organizations in Turkey, Hasanov noted that exhibitions, concert programs, scientific-practical conferences and other events held regularly are followed with great enthusiasm in Azerbaijan.
It was noted that the feeling of love and respect for the Azerbaijani people's national leader Heydar Aliyev in Turkey is also observed in the activities of municipalities. Construction of the Heydar Aliyev park and monument complex in Adana Province's Ceyhan City, Adana Metropolitan Municipality's decision on giving the name of the national leader to one of the existing parks, plans on establishing a university named after Heydar Aliyev, construction of parks named after Heydar Aliyev in the Mersin Province's Tarsus City and Hatay Province's Payas town, and others once again confirm this.
Moreover, monuments, parks, museums dedicated to Azerbaijan have been created and other works have been done at the initiative and organization of Turkish municipalities.
It was noted that the establishment of relations of sister cities between different cities of Azerbaijan and Turkey is of great importance for sharing local self-governance experience.
Currently, Azerbaijan's Ganja and Turkey's Izmir, Kars, Bursa, Ordu, Ankara, Elazig, Eskisehir, as well as Azerbaijan's Sumgayit and Turkey's Ceyhan, Baku's Khatai District and Tarsus, Nasimi District and Izmit, Shaki City and Meram, Mingachevir City and Golbasi, Shamakhi and Sharur cities and Igdir are sister cities.
Hasanov said the relations between the municipalities of Azerbaijan and Turkey are also developing within various conferences and exhibitions.
It was noted that memorials on graves of Turkish soldiers killed in the battles against Armenian Dashnak armed units in Azerbaijan in 1918 were reconstructed or repaired and that memorial ceremonies are held in front of the Turkish Martyrdom monument on September 15 every year.
Trend: