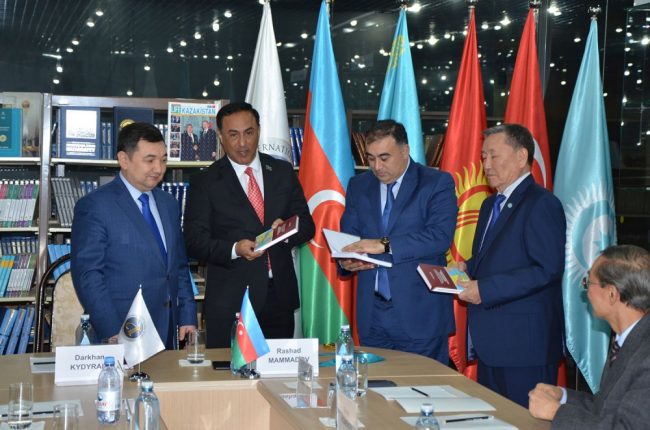 Kazakh version of the Azerbaijani President's Assistant for Public and Political Affairs Ali Hasanov's book "Geopolitics of the Caspian and Black seas' basin and South Caucasus: Azerbaijan's energy policy" has been presented in Astana.
President of the International Turkic Academy Darkhan Kydyrali, who wrote the foreword of the book, said the book is of great importance from the scientific and political points of view.
"The book studies the Caspian basin, which has relevance to Kazakhstan as well. It is useful for Kazakh researchers, politicians and diplomats," he said.
Darkhan Kydyrali described the book as objective, saying it is written not through the Azerbaijani, but through the regional prism.
Azerbaijani ambassador to Kazakhstan Rashad Mammadov said that Ali Hasanov analysed geopolitical characteristics of the Caspian and Black seas' basin and South Caucasus in the context of international, regional and local interests. He added that the book studies Azerbaijan's regional geo-economic interests and energy strategy.
MP Elman Nasirov underlined that one of the aspects, which makes the book interesting for Kazakh readers, is the study of international and regional geo-economic impacts of policy of free production and export of hydro-carbon energy resources of the Caspian Sea.
The book also studies Azerbaijan`s policy of diversification of energy exports and its impact on the general geo-economic situation in the region.
Ilaha Ahmadova, 
Special Correspondent  AZERTAC