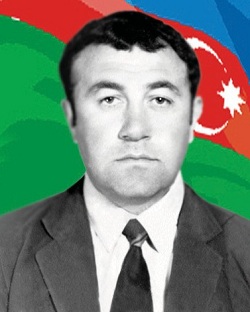 (22.12.1955, Ishigli village, Gubadli region – 7.8.1992, Suarasi village, Lachin region) – National Hero of Azerbaijan (7.12.1992, after his death)
He was born on December 22, 1955 in the village of Ishigli of Gubadli region. After finishing Muradkhanli village secondary school of Sumgayit, in 1972 he graduated from the Polytechnic College. After graduation, he served in the Soviet Army for two years.
When he returned to Azerbaijan, he worked at Chemical Community Gubadli region. After a while, he returned to his native village and by the request of the villagers he was appointed to the post of deputy director of the farm.
He could not stand the armenian vandalism for a moment. He always tried to be the moral support to our compatriots who became refugees, and he deeply sympathized them.
Alekber created self-defense groups to defend homeland. He fought like a true hero in battles. Liberation of Lachin, and other occupied territories was the greatest desire of Alekber. The brave soldier destroyed dozen of Armenian militants in the batlle that were taking place in the villages of Safian, Turks and Suarasi.
Fierce fighting was taking place in the village of Suarasi, Lachin region. AlekberAliyev with his group, went to support the villager on the 7th of August 1992 . But they were surrounded there. AlekberAliyev entered the fight to save his soldiers. He was murdered by the armenian bandits and died heroically.
Aliyev was married with four children.
Alakba Aliyev was posthumously awarded the title of "National Hero of Azerbaijan" by the decree of the president of the Republic of Azerbaijan no 350 on the 7th of December 1992. He was buried in the alley of Martyrs in Baku. Secondary school number 204 in Khatai district is named after him.
http://www.milliqahramanlar.az/hero/62