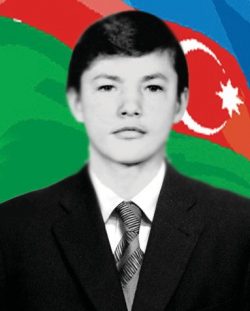 (27.10.1971, Ganja city – 2.8.1992, Aghdara region) – National Hero of Azerbaijan (6.11.1992, after his death)
He was born in Ganja city on the 27th of October, 1971 in the family of workmen. He studied at school # 39 after Mir Jalal till th eighth grade from 1979 till 1987. He studied a profession of the car locksmith from 1987 till 1990 at the Vocational school # 8. He was sent for the military service by Kapaz district Military Commissariat of Ganja city on the 26th of November, 1990. Igor first served in Baki city and later he was sent for 6 months military training course to Rostov province in Russia.
Igor was very much troubled about the declared war situation in Azerbaijan. He came back to Ganja without completing his military service. His mother did not want him to come back to Azerbaijan in this situation but he was continuously saying to his mother: Mother! Please, try to understand me! I was born in this land and this also my country. Therefore I am going to stand in defense of it and even if needed will give m own life for its protection!" And he did as he said.
He came to Baki and was enlisted in one f the military units of the Internal Army without telling anything to anybody. He was a brave and courageous soldier. Igor learned how to handle all the military equipment in a very short time. He was later appointed as an assistant of the platoon commander.
The 5th of June, 1992… Armenian bandits started unexpectedly attacking Nakhchivanik village at 6 a.m. in the morning. The post where Igor was standing on charge was located next to the village cemetery. He woke all the soldiers that were sleeping and strengthened the post. Armenians had more manpower and ammunition and the battle lasted for approximately an hour. Igor was protecting the post along with his soldiers but 7 – 8 of them were wounded and the rest had to retreat. Igor along with 3 – 4 other soldiers took the wounded soldiers from the battlefield. Armenians occupied the village in this battle. But there victory lasted only for 3 – hours. Our soldiers took the village back by counterattacking.
After the battle in Aghdam and Tartar, al lot of manpower and ammunition was needed in order t make the armenians retreat. Therefore a group of soldiers were sent to Aghdara from one of the units that were in Aghdam region. And Igor was mong this soldiers as well. He was a very brave soldier indeed and kept his words to protect the land where he was born.
The 2nd of August, 1992…the last battle… "Vishka" heights had to be taken back. But unfortunately the enemy was extremely strong. Igor was in front line along with one Azeri soldier with the nickname "Nikulin". They were in charge of the machine guns. And they showed their might to the enemy and helped 28 surrounded soldiers to be released and saved their lives. But unfortunately Igor could not save himself. He died heroically in this battle.
He was single.
Makeyev Igor Vladimorovich was posthumously awarded the title of the "National Hero of Azerbaijan" by the decree # 290 of the president of the republic of Azerbaijan on the 6th of November, 1992.
He was buried in the Alley of Martyrs in Ganja city. There is a street after the hero in Sadilli district of Ganja city.
http://www.milliqahramanlar.az/hero/134