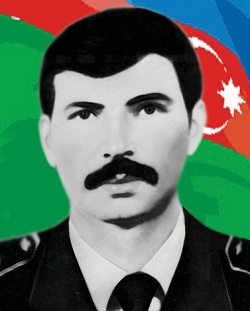 (22.3.1956, Turabad village, Zangillan region – 29.10.1991) – National Hero of Azerbaijan (25.11.1992, after his death)
He was born on the 22nd of March 1956 in the village of Turabad Zangillan area. He was called into the Soviet Army after finishing high school in 1975. After completing his military service, he was accepted in the Aviation School in the city of Krasnokutsk Saratov Provence and then started working in the civil aviation department. In 1976, he became a professional and was hired by the Civil Aviation Authority in Yevlakh. In a short time, he won the respect of the team.
When the aggression of the armenians in our lands started, he also joined the fight. Assadov Assad was already experienced pilot and gave worthy lessons to the enemy. He was always taking the right decisions under extreme conditions while flying over the battle zones.
On the 29th of October 1991, he took off with 9 men in order help people in Khojali airport. Our brave soldiers were subjected to heavy fire from the enemy while flying over Khanabad village. In this battle the brave commander died during the flight alongside his crew members.
The commander of the aircraft # AN – 2 of the Yevlakh Aviation Company had numerous flights in the sky of Karabakh..
He was married and had four children.
Assad Assadov was posthumously awarded the title of "National Hero of Azerbaijan" by the decree # 337 of the president of the Azerbaijan Republic on the 25th of November 1992, 25.
He was buried in Zangillan region.
Currently, his native region is under armenian occupation.
The secondary school in Turabad village of Zangilan region and one of the main streets in Minjivan is named after him.
http://www.milliqahramanlar.az/hero/76