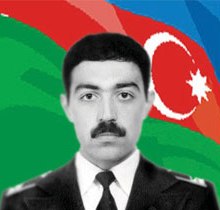 (23.1.1969, Baki city – 29.10.1991) – National Hero of Azerbaijan (25.11.1992, after his death).
He was born on the 23rd of January, 1969 in Baki city. He finished secondary school # 190 in Baki in 1986. Hikmat entered Krasnokutsk School f Civil Aviation in the year and graduated from it in 1991. Later, he studied at the correspondence department of Kiev Civil Aviation School and was appointed as a second pilot at Yevlakh Airlines.
Hikmat Muradov had a significant role and a service as a pilot of AN – 2 plane and flew to Garabagh zone many times. He also carried military equipment, ammunition, aviation tools and different types of appliances to the battle zones in a timely manner.
One of his assets as an experienced pilot was his courage, determination, self control and the ability to estimate the situation correctly.
The plane AN – 2 that he was flying was under severe attack by the enemy and was eventually hit with missile on the 29th of October, 1991. They were on duty and were heading to Khanabad village of Khojali region. Despite Hikmat's attempt to land the plane on a safe place in order to save the crew and the passengers did not work. The tragedy was inevitable…
He was single.
Muradov Hikmat Ogtay was posthumously awarded the title of the "National Hero of Azerbaijan" by the decree # 337 of the president of Azerbaijani republic on the 25th of November, 1992.
He was buried in the Alley of Martyrs in Baki city. There is a memorial bas – relief of him at the school # 190 where he once studied.
http://www.milliqahramanlar.az/hero/204