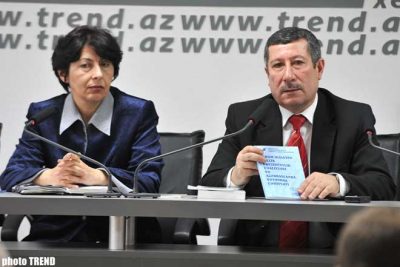 A book which was dedicated to the Azerbaijani President's 5-year activity and social study into 2008 presidential elections was presented on Feb. 10.
"We conducted a social survey on "Ilham Aliyev's 5-year presidential activity and Azerbaijani civil society" in all regions within a short period of time. We determined people's attitude toward the president and his presidential activity," the Azerbaijani Civil Society Development Assistance (ACSDA) Election Staff Head Maharram Zulfugarli said during a presentation at the Trend Agency Media Centre on Feb. 10.
The opinion poll was conducted all over Azerbaijan in November 2008, he said. ELS Independent Research Centre attended the survey.
The survey revealed that budget incomes made up 1.200 billion manats in 2003, while this figure topped 10 billion manats in 2008. "This fact clearly demonstrates scale of growth dynamics for 5 years," Zulfugarli said.
Interior Policy part of the book says that Ilham Aliyev has repeatedly urged opposition to dialogue and to unify the country's problem within his first office term.
"To create civil solidarity, the President used his constitutional right and forgave opposition leaders and figures who were arrested and sentenced to different terms of imprisonment with charge of committing mass unrest after the presidential elections in 2008," the book says.
"In 2003, one of Ilham Aliyev's pre-election promises was connected with opening new 600 jobs to solve unemployment problem within 5 years. Realization of this promise influences on every family's life," authors stress.
Foreign Policy part of the book says that Azerbaijan has pursued balanced foreign policy during Ilham Aliyev's presidency. "By demonstrating high patriotism, zeal, knowledge of nicety of modern European and world policy, the young president also demonstrated that he is a competent diplomat," the book says.
As to the Nagorno-Karabakh conflict, the book emphasizes that in 2003 Azerbaijani President Ilham Aliyev stated he will never reconcile with lost of lands. "He openly states if negotiations with Armenia are fruitless, Azerbaijan will use other means, particularly military way to restore the country's territorial integrity. The President has the right and grounds to speak so bravely. Azerbaijan's military expenses amounted to $163 million in 2003, while this figure reached $1.850 billion in 2008," authors write.
The next book which was presented by the ACSDA and ELS Independent Research Centre is called "Social analysis on Azerbaijani presidential elections". The book analyses results of the presidential elections held in October 2008.
/ Trend , A.Huseynbala/