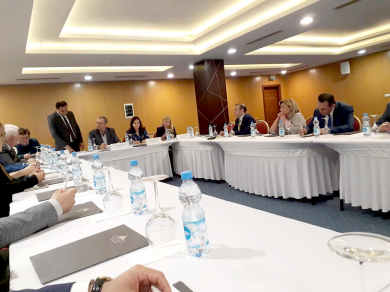 Bulgaria's Election Observation Mission of Civil Initiative for Free and Democratic Elections has started to operate in Baku. The observation mission, which includes four members, held a meeting with heads of NGO and media representatives.
Addressing the event, deputy head of the observation mission Katya Mikhaylova noted that they have been following the elections in Azerbaijan since 2003. She noted that the meeting aims to form an opinion on how well the elections in Azerbaijan are held in compliance with the laws and the generally accepted standards. The deputy head of the mission underlined that the decision was made to hold discussions with the representatives of NGO and media, as well as with presidential candidates in order to assess the general election environment.
The representatives of the mission noted that they will make an interim report on March 29.
www.sechki-2018.az