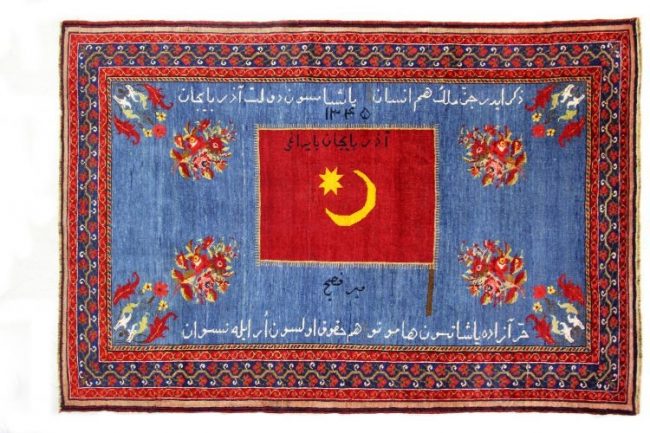 Azerkhalcha OJSC has put on display a rare carpet left from the Azerbaijan Democratic Republic.
The flag carpet, which demonstrates the determination of the Azerbaijani people for independence, is one of the oldest and rare samples, the company's press service told APA.
This pile carpet, weaved in Shusha, Karabakh in 1926 is a unique event in Azerbaijani carpet weaving.
For the first time in the cultural history of Azerbaijan, a state symbol – the flag has been depicted on a carpet.
The first flag of the Azerbaijan Democratic Republic, which existed between June 21 and November 9, 1918, was perpetuated on the carpet by national masters.
The carpet's inscriptions and illustrations have been weaved from right to left according to Arabic calligraphy rules. The carpet has a blue background symbolizing the nation's Turkic origin, with a read flag in the middle featuring a yellow star and crescent. The inscription written in Arabic letters on the flag reads "Zikr edər cinnü-mələk həm insan. Yaşasın devletü Azərbaycan" and "Hür azade yaşatsun hamunu. Hem hüquq olsun er ile nisvan".
The pile carpet, 178×129, is made of wool.
"Weaving of a carpet reflecting the attribute of an independent state in 1926 required great courage. That was a period when intellectuals who propagandized ideas of independence and wanted to see Azerbaijan as an independent state were persecuted, and preparations for the 1930s repressions were made. Weaving of such a carpet in that period shows that no force could displace the desire of the Azerbaijani people to live independently. Choosing a carpet as a symbol of independence is not accidental because the carpet is our national wealth, a valuable example of lifestyle and history of the Azerbaijani people," said the company's press service.
This unique carpet was taken from the personal collection in the Netherlands and brought to Azerbaijan in 2013.