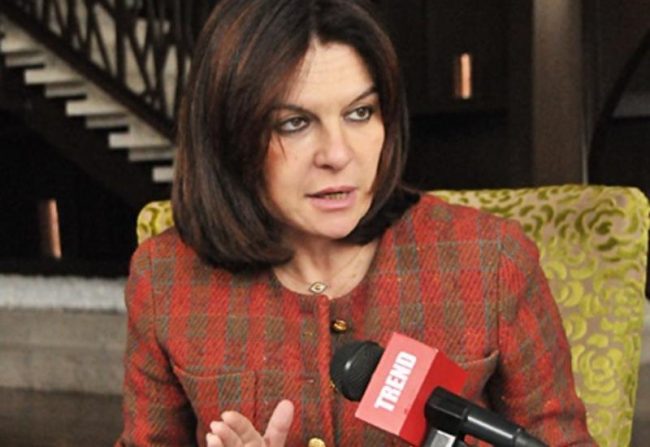 Paris should prevent illegal visits from Azerbaijan's occupied territories to France, Nathalie Goulet, French senator and vice-chair of the Senate's Foreign Affairs Committee, told Trend Nov.16.
She was commenting on the visit of the "head" of the separatist regime, created in occupied Azerbaijani territories, to France.
France does not recognize the illegal regime created in Azerbaijan's occupied lands, she said, adding that as one of the co-chairs of the OSCE Minsk Group, France should be very careful.
Goulet said that France needs a warning to follow the international regulations, especially regarding illegal visits from Nagorno-Karabakh, as well as illegal visits of French MPs and officials to Nagorno-Karabakh.
The senator pointed out that the unfair attitude of France towards Azerbaijan is due to the strong Armenian lobby in the country.
She also noted that the recent cancellation of French president's visit to Azerbaijan was a very unbalanced decision.
"I am deeply sorry, but I agree with the decision of Azerbaijan's Foreign Ministry to review cooperation with my country.
There is no love, there is proof of love.
Azerbaijan gave so many proofs of love to France. And it's time for reciprocity," she concluded.
Earlier, Azerbaijan's Foreign Ministry said in a statement that France's constant double standards approach makes Azerbaijan reconsider its ties with that country.
Bako Sahakyan's visit to France, presenting himself as the "head" of the separatist regime established in the occupied Azerbaijani territories, is another unsuccessful attempt to encourage that puppet entity at the international level, the Foreign Ministry said.
"France, which created conditions for that visit and accepted "representatives" of the illegal regime, by this step not only violates the spirit of bilateral relations and the signed agreements, but also demonstrates disregard for supremacy of norms and principles of international law and the undertaken obligations," reads the statement.
The conflict between the two South Caucasus countries began in 1988 when Armenia made territorial claims against Azerbaijan. As a result of the ensuing war, in 1992 Armenian armed forces occupied 20 percent of Azerbaijan, including the Nagorno-Karabakh region and seven surrounding districts.
The 1994 ceasefire agreement was followed by peace negotiations. Armenia has not yet implemented four UN Security Council resolutions on withdrawal of its armed forces from the Nagorno-Karabakh and the surrounding districts.
Trend: