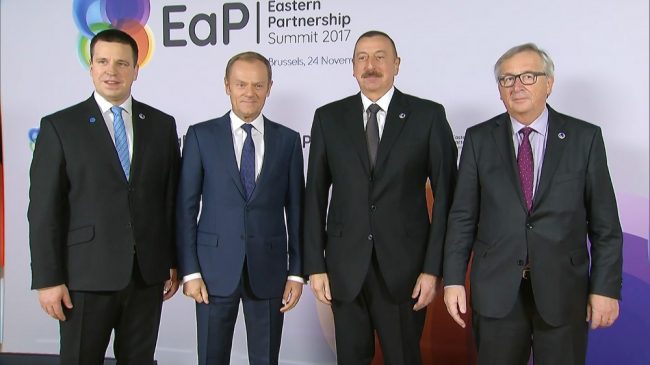 President of the Republic of Azerbaijan Ilham Aliyev, who is on a working visit to the Kingdom of Belgium, has attended the European Union`s Eastern Partnership Summit in Brussels at the invitation of President of the European Council Donald Tusk.
The head of state arrived at the EU headquarters to attend a plenary session of the Eastern Partnership Summit.
President of the European Council Donald Tusk, President of the European Commission Jean-Claude Juncker and Prime Minister of Estonia, which holds the presidency of the Council of the EU, Juri Ratas greeted President Ilham Aliyev.
Then they posed for official photos.
The Eastern Partnership is an initiative of Poland and Sweden aimed at improving relations with the CIS countries as part of the European Neighbourhood Policy. The Eastern Partnership covers six neighboring countries of the European Union, including Azerbaijan, Georgia, Armenia, Moldova, Belarus and Ukraine.
At this Summit, the EU member states discussed future cooperation with heads of state or government of six Eastern Partnership countries.