President of the Republic of Azerbaijan Ilham Aliyev has today been interviewed by local TV channels.
İn the interview, the head of state responded to journalists' questions about the work done in Azerbaijan in the economic and social spheres in 2021, relations between Azerbaijan and Armenia, reconstruction work carried out in the liberated territories, as well as the country's foreign policy and other issues.
Rufat Hamzayev from Azerbaijan Television: Mr. President, it is a pleasure to see you. First of all, let me express my gratitude both on my own behalf and on behalf of our colleagues for taking the time for the first interview in 2022, the Year of Shusha.
President Ilham Aliyev: Thank you.
Rufat Hamzayev: First of all, we would like to begin with economic issues. At the end of last year, in your address to the nation on the occasion of the Day of Solidarity and the New Year, you noted and announced the results of 11 months of last year. We are witnessing economic growth. Based on this reality, and if we add the postwar and pandemic realities, how would you evaluate the basis of success? What do last year's successes suggest about a forecast for this year?
President Ilham Aliyev: In my address, I informed the people of Azerbaijan about the results of 11 months. I was recently provided with the results of the whole year, and the results are as expected. Economic growth is more than 5 percent. This is a very good indicator, especially for a post-war country. The most gratifying thing is that our non-oil economy has grown by 7.2 percent. This shows that all our plans for the development of the non-oil sector are being implemented.
As for industrial production, our total industrial production has increased by more than 5 percent and our non-oil industry has grown by about 20 percent. I think this is perhaps the highest figure in the world. Because if we put aside the oil factor, this figure is a reflection of real economic and industrial growth.
Our foreign exchange reserves have increased even though we had major expenses last year. The investment program has been fully implemented, especially in Karabakh and East Zangazur regions and other parts of the country. Nevertheless, our foreign exchange reserves have increased by $2.5 billion. As you know, my general instruction to the government has been that we should not allow the reduction of foreign exchange reserves. If necessary, we can reduce costs, especially investment costs, but we must keep our foreign exchange reserves stable and try to increase them. Because this gives us economic independence, and without the economic independence it is impossible to talk about political independence.
Azerbaijan is perhaps one of a handful of countries where foreign trade balance is positive. In most countries of the world, imports exceed exports. At the end of the year, our exports exceeded imports by far, and the positive balance is more than $10 billion. Everyone involved in the economy sees how important this is. Of course, first of all, it has the greatest impact on the stability of the manat. The manat has been stable for many years, and both the population and the country have benefited greatly from that. The volume of manat deposits is growing and already dominates the balance of total deposits. This is a great benefit for investors. Because investors also see that the national currency is stable. Under such circumstances, investments, including foreign, can be attracted in higher volumes.
I should note say that a very important event in the life of our country will take place tomorrow. The foundation of a 240-megawatt wind power plant will be laid in Azerbaijan at the expense of foreign investors. The funds will be fully provided by foreign investors. In other words, this is a manifestation of confidence in the development and future of our country. Therefore, all these economic figures are not just statistics. For ordinary citizens, these figures are not so important perhaps. However, every citizen feels the results of these figures and these achievements in their lives.
Our plans related to exports are also being implemented. Our non-oil exports have increased by more than 40 percent. This allows us the opportunity to bring currency to our country not only at
the expense of oil and gas, but also at the expense of other products. We must take into account that the country's population is growing, which means that demand is growing, and so is domestic consumption. This being the case, the fact that non-oil exports are increasing can be viewed as a great achievement. All these figures are not just last year's figures. These figures are based on our long-term economic strategy. Last year we saw very good results of this strategy.
As for this year, this year's budget, which is due to the achievements of last year, will be the biggest budget in history. Budget expenditures will reach about 30 billion manats. For a country that has just emerged from war, these achievements show that there is a very good panorama in the economic sphere. This year, reforms will be continued both in the liberated lands, where investment projects will be implemented, and the rest of the country. We are seeing the results of these reforms. Last year alone, tax authorities were able to raise about 1.4 billion manats in addition to the forecast. Entrepreneurs have become accustomed to the new and transparent rules of relations, and are welcoming that. In other words, in general, the policy of purification and transparency in our country is manifested in all areas. Of course, the economic sphere is no exception.
Rasim Sharifov from ARB 24 channel: Mr. President, in the field of maintaining the economic growth rates you have just mentioned, a number of projects are implemented in our country to further improve and strengthen the social and material well-being of the population every year. We observed such projects last year too. In particular, at the end of last year, a social package covering hundreds of thousands of people was implemented. We would like to know what plans and strategies for economic and social projects the Azerbaijani government has for what is predicted as a difficult year ahead.
-You know, in general, our economic and social policies complement each other. Because if we look at the experience of many countries, we can see that the population of countries implementing only a scientifically based economic model usually suffers from that. Because, in principle, if we look at history, we can see that economic reforms, I mean drastic economic reforms, often have a negative impact on people's well-being. In Azerbaijan, however, we are pursuing a policy in which the social sphere is always in the spotlight and drastic economic reforms do not have a negative impact on people's livelihoods. True, there have been exceptions. As you know, a few years ago we had to take a very difficult step. The depreciation of the manat had a negative impact on people's well-being, but we had to take that step. Because if we hadn't taken that step, we could have spent all our foreign exchange reserves. The fact that this step was delayed already led to a significant depletion of the Central Bank's foreign exchange reserves. About $10 billion was spent to maintain the stability of the manat. As a result, the Central Bank could not keep the manat stable and we also lost $10 billion.
In other words, there have been such cases. But I can only remember this situation during my presidency. And this step was inevitable. In principle though, special attention has always been paid to the social sphere, because the human factor is at the heart of our policies. The social package, which includes raising salaries, pensions, social benefits, as well as the creation of social facilities, the attention being paid to the families of martyrs and former IDPs, allowed us the opportunity to successfully implement economic reforms. This factor is behind the decision made last year. The increase of the price of bread was inevitable. The price of grain and wheat has risen sharply in the world. Our main supplier is the Russian side because we buy the cheapest wheat from Russia. Both prices and export duties have risen and continue to rise there.
Of course, we could not artificially keep the price of bread at the previous level. Taking this into account, we are also strengthening the regulatory function of government agencies so that there are no artificial price hikes or speculation in this area. At the same time, a very large social package has been implemented. As you know, the minimum wage has been increased by 20 percent, the minimum pension by 20 percent, pensions and social benefits have also been increased. In total, it cost the budget 1.5 billion manats and covers more than 2 million people. We believe that the new wages can be seen as a compensation for the rise in bread prices, and this is not the first time this step has been taken. We regularly raise salaries. For example, if we look at the history of the past 10 years, we can see how much the minimum wage has been increased. Are we content with that? Of course not! But we must do everything possible. Comprehensive measures are being taken to improve people's social well-being. The increase in salaries and pensions is only a part of this.
There are other tools too, and we are using them. The people of Azerbaijan can rest assured that we will channel any additional funds raised primarily into social issues. As I mentioned, the tax authorities have already collected 1.4 billion manats above the forecast, and a social package worth 1.5 billion manats were immediately implemented. In other words, all additional funds raised were spent only on social projects, which once again shows how much importance we attach to the social sphere.
Murad Huseynov from Public Television: Mr. President, you have just touched upon the price of wheat in the world market, and it should be noted that Azerbaijan also imports other types of food and that food prices are rising in the world. According to the UN, prices have risen by about 21 percent. These are the consequences of the pandemic. What steps do you consider important for strengthening Azerbaijan's food security?
-This is one of the most important issues. I have been working on this issue for many years and have repeatedly given instructions to the government. I believe that we are taking the necessary steps to address this issue as much as we can. However, we must take into account the reality. The per capita land area in Azerbaijan is smaller than in neighboring and many other countries. Given that about 20 percent of our territory was under occupation for many years, given that a part of our territory is unsuitable for agriculture due to the climate and quality of the soil, this complicates our work, of course. In other words, this is a reality we cannot go beyond. This is our geographical location.
At the same time, along with our lands, our rivers were under occupation for many years. The Armenians deprived us of these opportunities by changing the course of those rivers, especially by cutting off waters of the Tartar River. Irrigation is also one of the key factors for food security. Nevertheless, we worked hard and, at the same time, steps had to be taken with regard to exports. The figures I cited were based on agricultural exports. If we look at the Soviet era, we can see that there was a single agricultural and national economic complex in the Soviet Union at the time. Division was carried out. Azerbaijan produced cotton, grapes, tobacco, fruits and vegetables, and imported meat, milk and wheat from Russia, Ukraine and Belarus. At that time, we could not provide ourselves with these basic food products at all. Therefore, we had two objectives. The first was is to ensure maximum food security in order to insure ourselves against crises in other countries. And the second was that we need to develop traditional agricultural sectors to increase both employment and local production and exports. Therefore, this task is still on the agenda today.
If we look at the cultivation of traditional agricultural products, I can say that fruit production in Azerbaijan has doubled over the past 15 years. It has doubled, which is a very large number. Grape production has also doubled, while vegetable production increased 40 times. Cotton production has increased many times. We have almost revived the cotton industry over the past five years, and the share of cotton in non-oil exports is growing by the year. At the same time, we have taken tangible steps to provide ourselves with basic foodstuffs. For example, if we look at beef today, we are self-sufficient by about 90 percent and for lamb by 100 percent. Azerbaijan had never produced milk and we were traditionally regarded as being unsuitable for cattle breeding. This is why we have spent a lot of money to purchase pedigree cattle, and if there are more than 1 million head of cattle in Azerbaijan today, 70,000 head are pedigree cattle. It is a 8breed of cattle that we brought to Azerbaijan in recent years and raised through certain measures, and their number will certainly increase in a few years. For example, in the production of milk and dairy products we have been able to reach 80 percent. We have also been able to increase chicken production by 80 percent. In other words, we had never reached these figures before – during the Soviet era or during independence. But we are still unable to provide ourselves, especially with wheat. We consume about 3.3 to 3.4 million tons of wheat, and only 2 million of that is produced in Azerbaijan. We import the rest, and if I say today that we can be 100 percent self-sufficient in terms of wheat, it would probably be wrong in the current situation. But we must work to increase local production, primarily through productivity. The grain yield today is 32 quintals, or 3.2 tons. If this figure reaches 4 or 4.5 tons, it will be possible, because in some large farms it is at 7 tons, in others it is 6 tons. I have visited these farms and participated in the establishment of these farms. Then we can provide ourselves with maximum amount of wheat from the available land.
Without wasting any time, we started planting work on the liberated lands, mobilized large amounts of money and instructed private companies and farmers. Planting has already begun there. But we also need to know that liberated lands were mostly used for livestock breeding during the Soviet era. In other words, there was no tradition of growing crops in mountainous areas, especially in Kalbajar, Lachin and Zangilan districts. Viticulture, tobacco growing, animal husbandry and cotton growing flourished there. During the occupation, Armenians planted grain on 100,000 hectares and harvested about 100,000 tons of wheat. This is a big quantity for Armenia. But for us this is not a lot. If planting is carried out of the liberated lands, in areas suitable and acceptable for grain growing, it is possible to get about 200,000 tons of wheat with the current yield. So this is the reality. In other words, it does not cover our deficit of 1.3 million. We should also know that the population is growing. The demand is growing every year. The number of foreigners visiting our country has decreased due to the pandemic. Millions of tourists will be coming to Azerbaijan after the pandemic. Therefore, in order to provide ourselves with a view to the demographic prospects, we only need to create modern technologies, modern irrigation systems and large farms. Assistance is being provided to small farmers. Subsidies and methodological guidance are provided. We must also improve this work. It is not ruled out – and we have already started dealing with this issue – that we will lease fertile land suitable for grain growing in other countries in order to grow crops there and bring them to Azerbaijan. Therefore, this is a real picture. Our wishes and opportunities do not coincide today. Therefore, everyone should know this real situation and the fact that we are doing our best. I am working on this almost on a daily basis. I do hope that thanks to the reforms carried out in our country, including agriculture, and the improvement of the economic and business environment, we will achieve most of these goals. In any case, we must be able to provide ourselves with staple foods other than wheat. And I believe we will.
Sabina Agayeva from Real TV: Mr. President, both when the second Karabakh war began and when it ended, you went to the Military Hospital and visited the wounded. You are with them also today. How would you evaluate the state's care and attention not only to them, but also to the families of martyrs and those disabled in the war, and the work done to improve their well-being in general?
-In general, I can say that Azerbaijan is setting its own model in this area. Because many countries of the world have gone through war. We know and study the experience of those countries. We see that the attention being paid to the families of martyrs, war veterans and those affected by the war in Azerbaijan can be considered quite exemplary. The initiatives put forward in Azerbaijan are not observed in other countries. For example, the provision of housing to the families of martyrs and disabled veterans by the state. This was our initiative. To date, about 10,000 people of this category have been provided with housing. Cars are provided as well – a total of 7400 cars have been provided. Those in the line, i.e. those who participated in the first Karabakh war, will be fully provided with cars in the near future. Last year alone, 850 families of martyrs and disabled veterans of the first Karabakh war were provided with housing. Participants of the second Karabakh war, i.e. disabled veterans and families of martyrs, were also provided with 750 apartments and this process continues. I think that people of this category, who took part in the first Karabakh war, will be provided with apartments possibly in full in two years, i.e. those who are in the line. The same conditions will be created for the veterans of the second Karabakh war in the next few years. I want to say again that this is our initiative. We have not seen it anywhere else. We did not bring this experience from anywhere. We are taking this step simply to give some comfort to people of this vulnerable category and to share in their pain. Of course, this requires major funds. Everyone knows how much an apartment costs, and it is a huge burden on the budget. But we have taken this commitment and will continue to do so until the end, until the last person of this category is provided with an apartment and a car.
At the same time, the social security of the families of martyrs is improving. The amount of benefits provided to them is regularly increased. We will always keep them in the spotlight. The Ministry of Labor and Social Protection of the Population has been instructed to provide jobs for this category of people, especially after the second Karabakh war. This process has already begun. Veterans who lost their hand, arm and leg during the war are provided with the most modern prostheses. This process is nearing completion. We are doing this in order to bring them back to normal life, and these prostheses are the latest technology. In other words, these are the most valuable, the most expensive and the latest technology prostheses from Europe that a person can live normally with, walk and even play football. Even a person who has lost an arm can now return to normal life. So these are the main factors. Of course, this policy and my constant contacts with this category of people are a very serious signal to society. I see that the society also has a special warmth towards this category of people. In particular business entities. I have repeatedly appealed to them to take care of this category of people, each of them as much as possible – both in terms of employment and financial assistance. In other words, let them take this initiative. In general, I think that our society has a very correct approach to this issue and there is a common opinion. Each of us must always help these people as much we can. We must and will help those who have lost their father.
– Mr. President, with your permission, we would like you to expand on your views on the post-war situation. You noted that social support measures are being taken. At the same time, if we look at the past year, we will see that you have shall make a retrospective journey into history. In other words, if we look at history, we will see that many plans on post-war reconstruction have been implemented. Support from international donors has been used. Azerbaijan relies on its own resources, of course, but it is not only about financial resources. As a continuation of last year's work, what work is to be done in the liberated territories this year?
– A very extensive program was launched last year. It would take a long time to list all these activities, but I should emphasize the main issues again, so that the people of Azerbaijan can see that, looking at the experience of post-war countries, this is indeed the largest program in history in terms of its proportions. As you mentioned, what makes this program quite special is that we are doing it at our own expense, without asking for or receiving help from anyone. Of course, there had to be a sequence here as well. This sequence has to be based on logic. First of all, what do we need? First of all, demining work should be carried out. Both ANAMA and the Ministry of Defense are active in this area, as is the Ministry of Emergency Situations. This process is going on. Unfortunately, we are still losing people. Since the war ended, about 200 Azerbaijani citizens – both civilian and soldiers – have been killed or seriously injured. Therefore, without doing this, we cannot start a large-scale return program. For this reason, first of all, the focus of the demining work has been on places where there is infrastructure, i.e. power lines and roads. Those areas had to be cleared first so that we could start this work. On the other hand, the process of demining the cities for which a master plan has been prepared is progressing fast, especially Shusha and Aghdam. First of all, we had to create electricity infrastructure because the local terrain of the liberated territories, especially in the mountains, is such that if there is no infrastructure, it will be very difficult, perhaps even impossible, for the military to serve there. Just imagine that there were no settlements in the parts of Kalbajar and Lachin districts bordering on Armenia in the Soviet times. No-one lived there and there were no roads for tens of kilometers from the border. It starts to snow there in October and the snow melts in May. Just imagine the scale of the work we had to carry out in a short time. I can say that many don't know this. In those regions alone – in Kalbajar, Lachin, Zangilan and Gubadli – on the border with Armenia, we have built about 700 kilometers of roads. These can be considered service roads, military roads. These are roads leading to our positions, roads to borders, roads to high mountains, roads to hills.
We had to bring in equipment, we had to bring in specialists. Our workers are regularly fired upon from that side. Unfortunately, Armenia did not learn the lessons of the second Karabakh war. Therefore, we were able to do it in a very difficult situation, and today we are settled in all major checkpoints along the border. Not only have we settled there, we have also built a modern infrastructure to be able to serve there. Because the weather is very cold there and the service conditions are quite harsh. The thickness of the snow is around 3-4 meters. We now have supplies of food, roads and power lines there, so there are conditions for normal service. But when we look at Armenian posts, we see how deplorable they are. In other words, they are stationed in tents and have to fight the cold while serving. Therefore, both roads and power lines are needed for this purpose. Because we had to access those borders, we had to protect this border. And we have achieved this now – all along the border from the Araz to Murov Mountain. At the same time, the process of creating electricity infrastructure has begun, as we built seven substations on all liberated lands in one year and connected all these substations to a common circular network. None of them now can operate on its own. In other words, for example, the power received from there now and the power produced at hydropower plants are fed into in the general network. This allows us the opportunity to avoid a crisis. This was a huge and difficult job. Just imagine – seven substations in one year, in places where there is no housing, there are mines and there is no infrastructure. This is a great sacrifice. In particular, in winter, in the snowy conditions in Kalbajar district, electric pylons were installed from Dashkasan, which is 3,500 meters high. This is a great sacrifice indeed and shows our potential. So this shows that we are not only financially, but also technically and professionally independent. We did not get help from anyone and did everything ourselves.
Then intercity roads. This process was started and then expanded a great deal. A tunnel more than 11 kilometers long is being built from Goygol to Kalbajar. Because it is difficult to use this road in winter. A second 4-kilometer tunnel is being built between Kalbajar and Lachin. What will it give us? It will give us the opportunity to easily travel to Kalbajar from the direction of Goygol-Ganja, and we can solve all the issues both from the strategic point of view and from the point of view of the return of citizens there. The Barda-Aghdam highway is under construction. We are connecting Naftalan with Talish and Sugovushan. This will be very important both from a strategic point of view and from the point of view of tourism. Because Naftalan has now become an international tourist center, and the distance from there to Lake Sugovushan is very short. We intend to turn both that area and Aghdara into a tourist center, and at the same time, we must ensure that people return there. Other roads, such as the Fuzuli-Shusha road and the Zafar road, were built in one year. The second road is being built – the Fuzuli-Hadrut, Fuzuli-Jabrayil, Horadiz-Aghband, Zangilan-Gubadli-Lachin road, as well as additional roads in the direction of Lachin. I can't list them all because there are so many that it's hard to remember.
Railways. We have already started the construction of the Barda-Aghdam railway. We have started the construction of the railway, which is a part of the Horadiz-Aghband-Zangazur corridor.
The restoration of historical monuments. Notice how much work has been done in Shusha. At the same time, the foundations of Aghdam, Zangilan, Hadrut and Dashalti mosques have been laid and repairs have started. In other words, it would take a long time just to list everything. I try to pay attention to each project. Therefore, I visited the liberated lands many times in 2021, and along with these infrastructure projects, urban development projects will be implemented this year. We have now laid the foundations of schools and hospitals. The master plans of Aghdam and Fuzuli cities are ready. Agreements have been signed with relevant companies to develop master plans for other cities. We want everything to be done in a comprehensive manner – both quickly and, at the same time, not in a haste. Because everything must be comprehensive and the people who are about to return there must be provided with the best conditions. Because these people lived in difficult conditions for 30 years. It is true that many of them lived in beautiful apartments provided by the state, but they always lived with a longing for the homeland, a longing for their native land. We must create conditions for them to live comfortably from now on. Therefore, we should not waste any time but we should not do things in a haste either. Everything must be done in a comprehensive manner, all construction work must be carried out transparently and the basis of tenders. Special instructions have been given and maximum transparency must be ensured. If we face any unpleasant situations, our punishment will be very severe, and everyone should know that.
Let me repeat that along with infrastructure projects, for example, the construction of a residential complex in Shusha has already begun, the foundation has been laid, and we will begin construction soon. Schools and hospitals in Aghdam, other places and villages. There are plans to put Aghali village into operation. So it is large-scale work, very large work – both from a technical point of view and in terms of financial capacity and responsibility. Because this is a very responsible job, so we must not make any mistakes here.
– Mr. President, does the socioeconomic development, the implementation of that also mean the fight against corruption and bribery? You have spoken about transparency, and your uncompromising position on this area, on the fight against corruption is evident. Therefore, we would like to know that despite all these serious reforms, we are still facing bureaucracy, government officials engaged in business – such negative things. What reforms do you envisage in this area this year?
– The fight against these phenomena will be continued this year. I think that the unity between the determination we have shown, the words and deeds in recent years should be a lesson for everyone. Because I have repeatedly instructed government officials, both officially and during meetings when appointing them to office, that corruption and bribery must be seriously combated, and if government officials tarnish themselves, the punishment will be very severe. The result shows that the highest-level officials have been accountable by investigating authorities and courts and received their punishment they deserve. I want to say again that no-one can evade this responsibility, no-one is above the law, everyone is equal before the law and no-one's previous services will be taken into account. In particular, the previous merits of people going down this crooked path have done them a huge disservice. Therefore, I think that everyone has already seen and knows this. Therefore, our steps will be very severe. Our punishment will be very severe.
But this is only one side of the issue. I have been working as President for 18 years and many personnel changes have been made on my initiative. Unfortunately, in some cases, personnel changes do not lead to a positive change in the situation. When new staff are appointed, they act in accordance with the instructions for a certain period of time, but then, over time, as they say, they go the old crooked way. Therefore, along with punitive measures, the issue of proper selection of personnel should play a role here.
The Azerbaijani public has recently seen very serious personnel reforms in this area. Serious personnel reforms have been carried out in almost all branches of the government. The government, the Milli Majlis, the Presidential Administration, ministries and local executive authorities have already undergone significant personnel changes, and I believe that this will play an important role in the fight against corruption. At the same time, we must create an atmosphere in society that would strengthen public oversight. You know perfectly well that I have repeatedly expressed my views on this issue, and not just for the sake of saying it. Because if this were the case, I would say it only once. I always say this, I appeal to our citizens not to remain indifferent and exercise control. Public oversight will deter many officials from engaging in such criminal activities. Therefore, some institutional format of public oversight needs to be developed. You, the media, have a great role in this area. I can say that I sometimes learn about an unpleasant situation from you. I get this news from you and react immediately. I can say that the information provided in the media is in many cases confirmed. There is also biased information but the vast majority of it is confirmed and measures are taken immediately. Therefore, government officials should know that their work is monitored not only by the Presidential Administration, but also by the public and the media.
I think that one of the important factors is to narrow the field for corruption. Here, of course, institutional measures must be taken, additional steps must be taken in terms of transparency and accountability. To put it simply, the ASAN model should be applied to all areas. Because the ASAN model has already stood the test of time. It was also our initiative. There had been no such service area of such scale and scope before us. We have done it. We have managed to do it. Therefore, the approval rating of ASAN service is about 98 percent, perhaps even more. I am actually wondering why it is not at 100 percent. There is a completely transparent picture there. Therefore, this model should be applied to all areas – economic, social, government-citizen relations. Government-citizen contacts, i.e. the area where there are opportunities for corruption, should be minimized. If this is the case, the success will be even more impressive. But I think that our political resolve is already obvious to everyone. I said earlier that if a government official does not want to find themselves behind bars and can't give up their ugly deeds, they should resign of their own accord so as not to ruin their lives.
Elmira Musazadeh from CBC: Mr. President, since CBC is an international channel, with your permission, I would like to ask my question in Russian. You spoke today about the large-scale projects being implemented in the liberated territories. In this regard, I would like to talk a little about army building. On 24 December, during your visit to Hadrut settlement of Khojavand District, you took part in the opening ceremony of a new military unit for commando forces. You mentioned there that, I would like to quote you with your permission: "The greatest importance of this military unit is that after the war we did not stop the process of army building, did not reduce the costs of the army, but even increased them." Why is this so important and how will army building be carried out in the coming years after Azerbaijan's victory in the Patriotic War?
-Given the fact of occupation, the issue of army building has always been at the top of my agenda. This topic has always dominated my work schedule, public speeches and contacts with colleagues. Of course, this topic united our entire nation and we all tried to secure the restoration of Azerbaijan's territorial integrity. It is no coincidence that when we reviewed and prepared the state budget, I always ordered that the biggest expenditures should be allocated for army building. This, among other factors, proved correct. As for the current stage, I did speak about that and you rightly reminded me of my own words that we should not stop for a number of factors. First of all, unfortunately, there are strong revanchist sentiments in Armenia, both in the government and in the opposition, and also in society. Unfortunately, we are seeing this in real life. Just yesterday, another military provocation was committed against Azerbaijani servicemen. As a result of this baseless aggression, an Azerbaijani serviceman was killed. It is not the first time this has happened since the war. Unfortunately, Armenia did not learn the lesson from all our previous punitive measures. Yesterday's incident is no exception. The
Azerbaijani Armed Forces have taken decisive measures to punish the criminals, and today, according to the information I received from the Minister of Defense, six to eight enemy servicemen were killed and many others were wounded. Shortly after this incident, the Armenian side began to insistently request a ceasefire. However, they must understand that the death of an Azerbaijani serviceman will never be forgiven. Despite numerous requests from the Armenian side, I would even say pleas – since this incident took place not in the area of responsibility of Russian peacekeepers, but in the direction of Kalbajar – and also despite the requests of Russian peacekeepers, I ordered the Defense Minister at 21:30 to cease fire and let the Armenian side collect their numerous wounded servicemen. In other words, both this incident and all previous incidents ended in this way – crimes, provocations, covert provocations, punitive measures by the Azerbaijani side, and then pleas for a ceasefire. As a result, Azerbaijan has once again demonstrated humanism, but only after we came to the conclusion that the punitive operation should be stopped.
In fact, this explains why we continue the army building process. There are a number of aspects here. First of all, of course, we used up a lot of the ammunition during the war, so we have to replenish that now, and the new contacts signed will provide us with this opportunity. The supply of weapons and ammunition is already underway. The next issue is the purchase of modern weapons systems of different types. We have always attached great importance to this issue. Military technology is evolving fast and we always want to get the best equipment available. As you know, we do not have a problem with the number of parties interested in selling weapons to us. The third issue is to increase the combat capability of the Armed Forces. The second Karabakh war is not only a great victory for us, it is also a great experience in the field of operations. It has been a practical test of the Armed Forces not in training, but in real operations, and our Armed Forces came out of this test with dignity. However, the second Karabakh war also showed us what to do next, what elements of the military infrastructure we did not use, used in a very limited manner or that they were weak. This is also a great experience. For obvious reasons, I can't say more now. The creation of a commando force is just one of the elements of improving our military capabilities, but it is also a very important element. This process has begun and, as I have already said, will be continued.
Our special forces showed their best during the second Karabakh war. I have said this many times. Therefore, the improvement of these forces, as well as the creation of a new special force, is a necessity dictated by the situation. We are talking about attempts at exacting revenge. The point is that we do not know what will happen in a year, two or five years. Today, the Armenian army is in a completely dilapidated state and is incapable of resisting us on a scale greater than in the second Karabakh war. We are closely following all military-building efforts in Armenia both with their own forces and with the help of their partners. Therefore, I have sincerely and openly stated that if we see even the slightest threat to our security, we will immediately crush it no matter where it is and no matter how deep it is in the territory of Armenia. Everyone, first of all, the Armenian leadership should know and understand this.
Therefore, as a result of the measures we are taking, the Azerbaijani Armed Forces will become even stronger than they were during the second Karabakh war. However, as we all know, the experts and the public of a number of countries do not conceal their admiration with what we demonstrated during the war. This unexpected and explicit admiration, of course, made all of us feel very proud of ourselves. But at the same time, we must not become complacent or arrogant, as they say, and not repeat the mistakes of the Armenian side, which considers themselves to be great fighters but actually set a new record in the sprint. Of course, this will not happen, but in any case my actions now, including those within the framework of army building, are aimed at keeping our feet on the ground. We have done what is necessary, and we have done it with dignity, honor and justice. And now we must think about the future and the ability of the Azerbaijani Armed Forces to protect our people and state from all possible threats. In my opinion, a lot has happened in the year since the war, and this has shown – not only in relation to Armenia – that we are able to defend ourselves properly.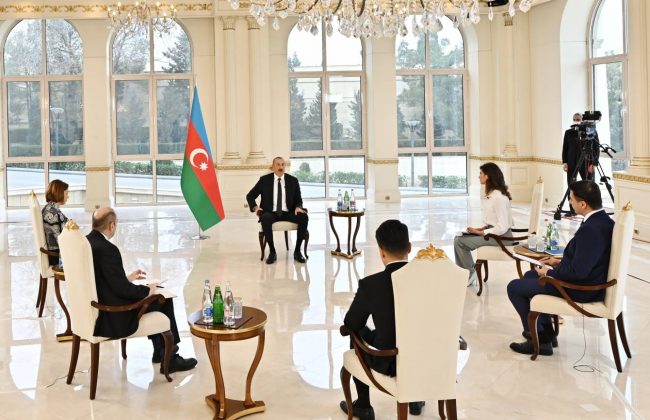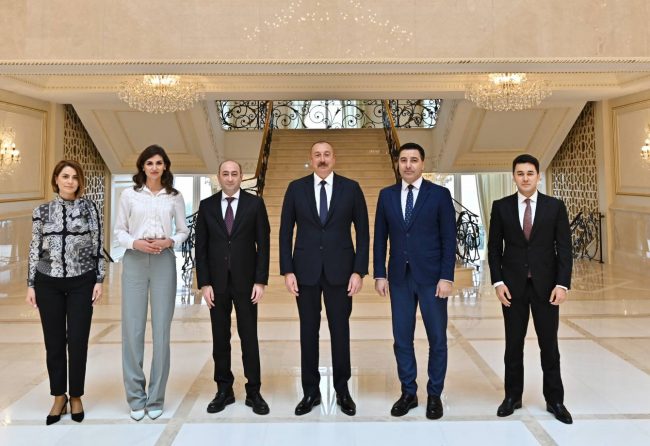 President.az