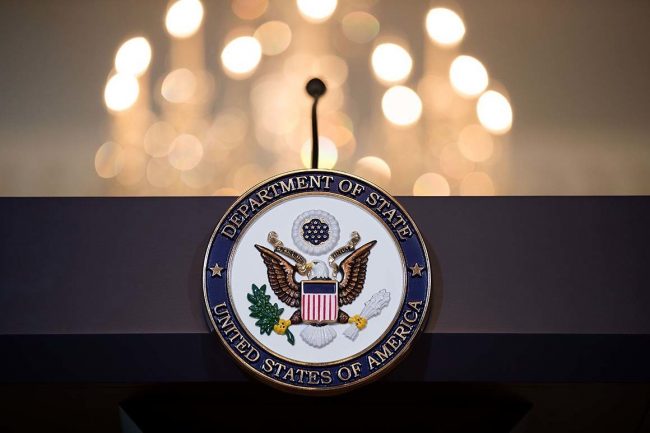 In 2018, the Azerbaijani government actively worked to deter, defect, and defeat terrorist efforts to move people, money, and materials across its land and maritime borders and within the South Caucasus.
Report informs citing the website of the US Department of State that the due statements were reflected in the report of the US Department of State on the steps taken by various countries to fight terrorism.
The report's section on Azerbaijan headlined "2018 Terrorist Incidents: There were no reported terrorist incidents in Azerbaijan in 2018" says that the republic actively worked to defeat terrorism.
"Azerbaijani law enforcement and security services conducted operations to disrupt and prevent terror attacks, arrested and prosecuted suspected terrorists, and prosecuted returning Azerbaijanis suspected of joining or financing terrorist groups fighting outside Azerbaijan," the document says.
The US Department of State especially stressed stability in Azerbaijan:
"There were no reported terrorist incidents in Azerbaijan in 2018.
In 2018, Azerbaijan passed an amendment to expand law enforcement agencies' legal authorities to monitor and control financial transaction mechanisms that the government perceives could be used to finance terrorism.
Azerbaijani law enforcement and security services have demonstrated adequate capacity to detect, deter, and prevent acts of terrorism in Azerbaijan's territory. Responsibility for counterterrorism is vested in several government agencies. The Ministry of Internal Affairs (MIA) is Azerbaijan's primary law enforcement agency, and its Organized Crime Unit is tasked with leading the Ministry's counterterrorismn efforts.
The MIA cooperates closely with the State Security Service (SSS), Azerbaijan's domestic intelligence and counterterrorism service.
Notably, the report informs about various state bodies of Azerbaijan and their structures.
The State Department report also states that Azerbaijan is a member of the Council of Europe, the OSCE, the Organization of Islamic Cooperation and other international organizations and supports NATO's antiterrorist initiatives as a member of the Alliance for Peace Program. It is noted that Azerbaijan has sent peacekeepers to Afghanistan and donated to the Afghan National Army Trust Fund as part of NATO's "Resolute Support" mission.
The report also touches upon the functions of the state bodies responsible for the fight against terrorism and security in Azerbaijan, as well as other activities.
The report contains critical comments about some countries. Several countries have therefore objected to the document.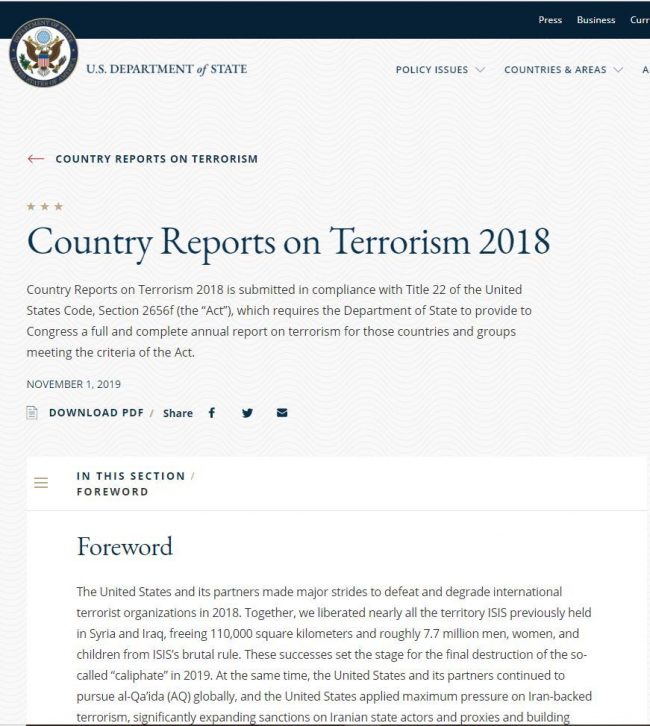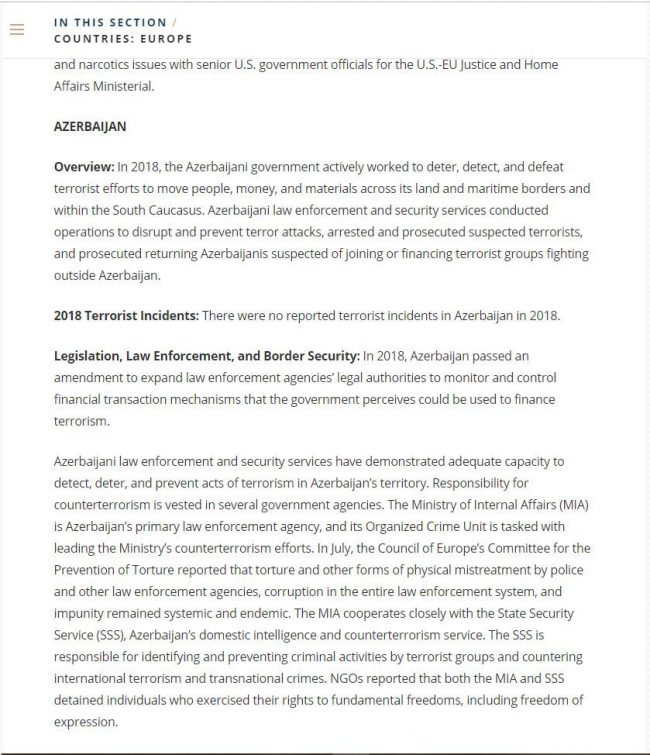 report.az