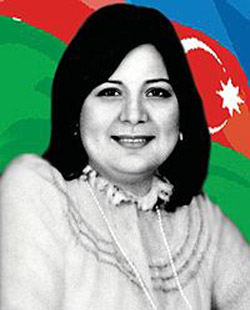 (16.12.1961, Baku – 9.1.1991, Lachin) – National Hero of Azerbaijan (6.11.1992, after his death)
She was born on December 16, 1961, in Baku in a family of intellectuals.
In 1979, she finished Baku secondary school number 18 named M.Mushfig with excellent marks.
The same year, Salatin entered the Azerbaijan Institute of Oil and Chemistry.
Desite of obtaining a Diploma of Engineering, the love of Literature dragged her to the field of journalism. Thus, she started her career and experience as a freelance reporter.
Then, she began to make speeches on various topics in newspapaers and magazines such as; "Baku" and "Molodyoj Azerbayjan". The issues that she was toughing and talking about were very important problems associated with our lives. . The main topics of her writings became the Karabakh problem, and the territorial integrity of our lands. She was often going to the front lines, in order to quickly prepare materials from hot battle spots.  Her family and colleagues were very much worried about her and were repeatedly trying to prevent her from going to the combat zones but were not able to do so.
Salatin, got in a car of one Russian officer and headed to the Armenian villages.
She talked with people around the village store, trying to call them for reconciliation, telling them not to succumb to the provocations.  But uncontrolled rabid Armenians started firing and were trying to shoot her. The Russian officer managed to take her out of the village and saved her life scarifying his own. He himself died out of the bullet wounds received by armenian gangsters.
1991… January 9… She was coming from Lachin to Shusha. On the 6th km of the road, in the vicinity of the village Galaderesi the car of Armenian bandits started firing from close range. Famous journalist, of the newspaper "Molodyoj Azerbayjan" Salatin Asgerova was brutally murdered.
She was married and survived by a son.
Asgerova Salatin Aziz was posthumously awarded the title of "National Hero of Azerbaijan" by the decree № 294, by the president of the Azerbaijan Republic dated November6, 1992.
She was buried in the alley of Martyrs in Baku.
There is a street named after her in Baku.
One of the entertainment boats in the bay of Baku is named after her as well.
There is also a bust of her put in "Tefekkur" University.
Her bass – relief was put on the building here she lived,
The village where she was murdered is now called "Salatinkend".
http://www.milliqahramanlar.az/hero/80