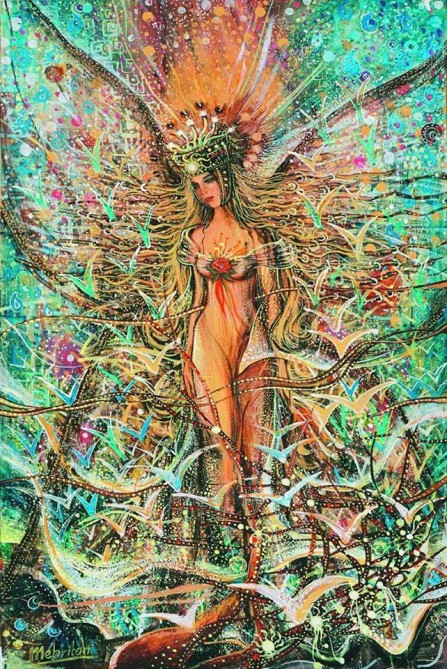 Paintings of Azerbaijan's surrealist artist Mehriban Efendi will be presented at the largest exhibition of surrealism in Europe.
Honored Artist of the republic, Mehriban Efendi is popular for her colorful, surrealist works. This time, she will present her paintings "Miriada" and "Impression".
The 2017 edition of "Surrealism Now" includes more than 100 artists from 48 countries. The new edition will be held at POROS Museum in Condeixa-a-Nova, Portugal, on December 23.
Mehriban Efendi participates in the project "International Surrealism Today", which brings together artists from Europe, Asia, North and South America since 2010.
The first solo exhibition of Efendi was held in the U.S. in 2005. Then she participated in the exhibition "Art and Awareness" in Montana; a few of her works were further demonstrated at the huge electronic billboards" Art Takes Times Square" on Time Square in New York.
The work "Harmony" presented at this exhibition was published in the book "Art Takes Time Square" and was noted as one of the best works in 2012.
Mehriban Efendi took part in an international exhibition organized by Australian artist Paris Saint-Martin, becoming one of the top ten computer artists in 2003, while in 2009, the artist's work was presented at an international exhibition in the Netherlands. In 2010, Efendi was among the 56 best surrealist painters in the world.
She won the first prize of the international exhibition "Shining" in Bulgaria, which was held under the motto "The ancient codes of my country" in 2010.
In 2011, the artist won an international award at the festival "Cinema @ Costume moulins" in France as "The best dress artist." This award was conferred for her costume designs for German director Veit Helmer's film "Absurdistan."
She was the winner of the prestigious Sandro Botticelli (named after the Italian painter of the Early Renaissance) award called "For art and talent" in 2014.
In 2016, her works "Mysticism" and "Night Impression" entered the book "Polychromia" about the best contemporary surrealist artists according to National Geographic.