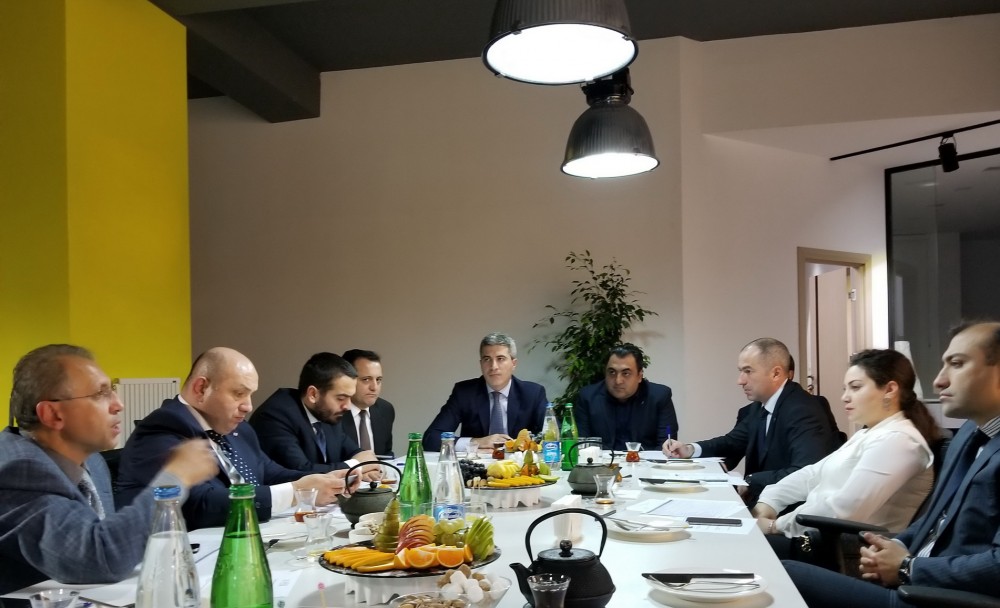 The first meeting of the newly elected Members of the Board of the Caspian European Club has been held in Baku. At the meeting First Deputy Chairman of the Caspian European Club and Caspian American Club Telman Aliyev introduced newly elected Chief Executive Officer of the Caspian European Club Mustafa Abbasbeyli.
In turn, Mustafa Abbasbeyli, who chaired the meeting, congratulated the new Members of the Board of the Caspian European Club on their election and wished them further successes within the Club.
The election of the Board Members took place on November 15 during the special session of the Caspian Energy Forum dedicated to the healthcare (Caspian Energy Medical Forum). Only the members of the Caspian European Club had the right to vote. Each candidate, who received more than 50 votes, enjoyed the opportunity to become a Member of the Board of the Caspian European Club.
During the meeting Mustafa Abbasbeyli spoke about the priorities, new projects and tasks to be implemented before the end of 2018. The revised conditions for joining the Caspian European Club were presented, branch clubs were renamed into committees and new heads of committees were appointed, and the Charter of the Club's Board was approved. "Twice a month Club meetings will be held in the format of round tables under the chairmanship of the heads of working committees. During these meetings the Board Members will discuss challenges facing companies in these industries and possible solutions to them," the Caspian European Club CEO said.
"On December 15 this year, the first Azerbaijan-Georgia Business Forum with Ambassador of the Republic of Azerbaijan to Georgia Dursun Hasanov will be held. Also, the 9th CEO Lunch Baku with Ambassador of the United States of America to the Republic of Azerbaijan Robert F. Cekuta will be hosted on December 20," Mustafa Abbasbeyli added.
Caspian European Club was established in June 2002 with the support of the largest oil and gas companies operating in the Caspian-Black Sea region. His Excellency President of the Republic of Azerbaijan Ilham Aliyev is the Chairman of the Caspian European Club.
Since the very establishment the Caspian European Club has promoted attraction of revenues from the oil industry for the development of the non-oil sector. The Caspian European Club, which brings together more than 5,000 member companies and organizations, operates in 70 countries around the world and is active in supporting the dialogue between the government agencies and the private sector.