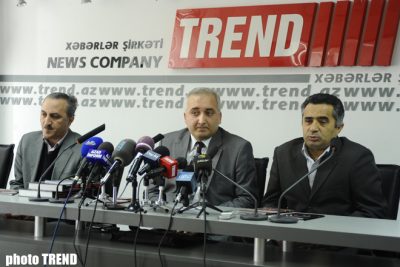 The Association for Civil Society Development in Azerbaijan(ACSDA) held a presentation of the book on the Khojali tragedy in the International News Agency TREND's press center.
"The book is issued in English and envisaged for foreign readers", the Association's Vice President Vali Alibeyov said at the presentation of the book.
He said first book on the topic "Two photo-talks on a tragedy" is based on Mirnaib Hasanoglu and Ilgar Jafarov's photographs and their comments to the materials. "The main goal in issuing this book is to show the authorship of the photographs, as Armenians often use our photographs for propagandistic purposes" Alibeyov said.
According to him, the second book – "Historical facts vs. the Armenian myths" consists of foreign scholars and historians' works, who confirm the historic belonging of Nagorno-Karabakh to Azerbaijan
ACSDA has initiated coverage of the Khojali tragedy in"Khojali – documents, facts" issued in 2006 in Russian and English languages.
Armenian troops committed genocide in Khojali on Feb. 26, 1992. The tragedy began early morning. Within hours, over 613 unarmed Azerbaijani citizens were killed. Among them were 106 women and 83 children. About 1,000 people were disabled by shots; 8 families were fully destroyed. A total of 25 children lost both of their parents and 130 children lost one of them. About 1,275 people were taken prisoner and around 150 people went missing. Eight families were completely killed.
/ Trend , M. Aliyev /