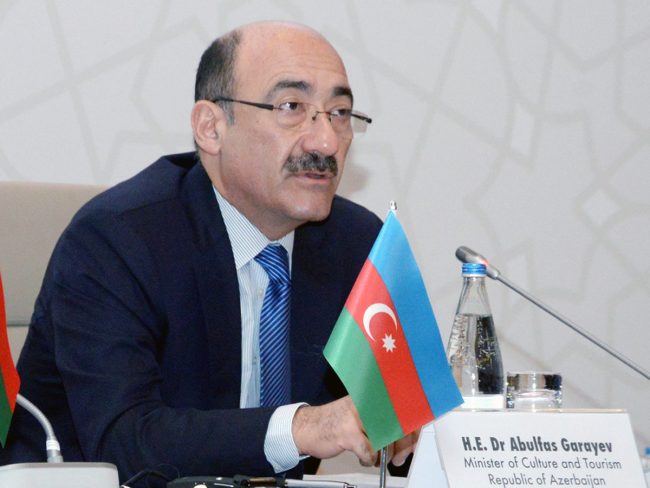 The order by Azerbaijani President Ilham Aliyev to declare 2019 as the Year of Nasimi in Azerbaijan created the opportunity to re-think and analyze the work and the great contribution of this great personality, Azerbaijani Culture Minister Abulfas Garayev said Jan. 29, Trend reports.
The minister noted that the holding of the 600th birth anniversary of Nasimi at the level of UNESCO in 1973 on the initiative of great leader Heydar Aliyev became a significant event in the history of Azerbaijani culture.
"Then, in the center of Baku, a bust was erected to Nasimi, the author of this bust is Tokay Mammadov and this bust adorns our city," said Garayev. "A film dedicated to the great thinker was also made, scientific research was conducted and books were published."
The minister reminded that in May 2017, the 600th death anniversary of Nasimi was celebrated at the UNESCO headquarters in Paris, and in September 2018, the Nasimi Festival of Poetry, Art and Spirituality was held in Azerbaijan for the first time at the initiative of Leyla Aliyeva, vice president of the Heydar Aliyev Foundation.
"The festival was attended by writers, scientists and researchers from many countries," the minister said. "The festival not only opened up new opportunities for the study and promotion of Nasimi's work, but also for the promotion of Azerbaijan. The Year of Nasimi is directly related to the spirituality and culture of the Azerbaijani people. The Ministry of Culture has prepared an action plan for this year, which provides for holding various events, exhibitions, organizing literary and artistic evenings, publishing books both in the country and abroad."
On January 11, Azerbaijani President Ilham Aliyev signed an order declaring 2019 the Year of Nasimi.
The year 2019 marks the 650th birth anniversary of Nasimi.
In order to decently hold at the state level this significant event in the history of literary and cultural thought of Azerbaijan by decree of the Azerbaijani president "On holding the 650th birth anniversary of the great Azerbaijani poet Imadaddin Nasimi" dated November 15, 2018, the Cabinet of Ministers was instructed to prepare and implement the plan of the relevant events.