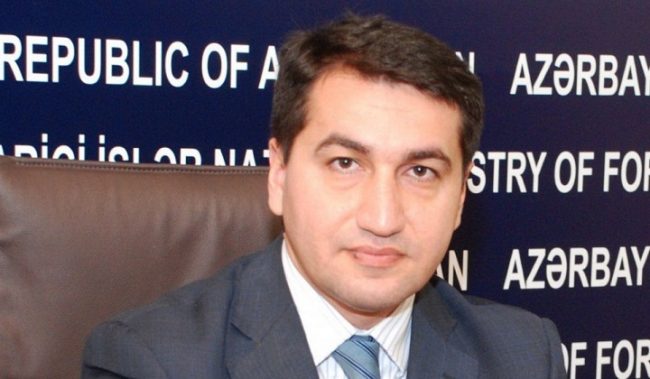 "Despite the efforts of Armenia and the Armenian lobby, the European Union reaffirmed its commitment to support the territorial integrity and sovereignty of all its partners," said Azerbaijani Foreign Ministry spokesperson Hikmat Hajiyev as he commented on the importance of the Joint Declaration of the Brussels Eastern Partnership Summit in an interview with AZERTAC.
"The EU Summit participants recommitted themselves to strengthening democracy, rule of law, human rights and fundamental freedoms, as well as principles and norms of international law, which are at the heart of the Eastern Partnership," he said.
"The statement also contains references to the Helsinki Final Act, the 1990 OSCE Charter of Paris, and the European Union's Global Security Strategy. Full commitment, respect for and adherence to the purposes and principles enshrined in the UN Charter, the 1975 Helsinki Final Act and the 1990 OSCE Charter of Paris are fundamental to our shared vision for a peaceful and undivided Europe," Hajiyev said.
"As also outlined in the Global Strategy for the European Union's Foreign and Security Policy, respect and support for the territorial integrity of EU member states and neighboring countries within the internationally recognized borders are one of the most important principles," he added.