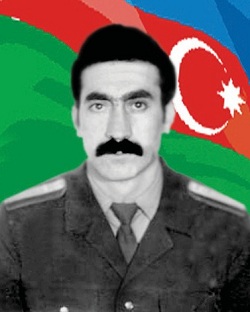 (1.4.1967, village of Gulabird, Lachin region – 10.2.1994, Fuzuli) – National Hero of Azerbaijan (15.1.1995, after his death)
He was born on the 1st of April 1967 in the village of Gulabird in Lachin region. He entered the technical vocational school № 127 in 1974, and graduated tenth grade in 1984. In 1985, he was called into the army. In Ukraine, while being on a military service he completed a 6 months training for sergeants. And during the service he was awarded a diploma, the first degree certificate and a badge, as an athlete.
Qorkhmaz returned to his home after completing his military service in 1987.
In 1988, he joined the guerrilla group which was created in Lachin. In March of 1992, he was recruited to Lachin District Police Station.
The battle passage of an ordinary police officer was passing through the villages such as Qazderesi, Mazutlu and Suarasi till his home. With the help of our brave soldier – Eyvazov Qorkhmaz, the fighters were able to capture an enemy tank in the batlle for the sake f Qizarti Mountain.
On the 4th of August Armenian bandits attacked again in order to gain control over Qizarti Mountain pass in the region. The brave soldier was shot in his arm during this battle. Soon after he recovered, he joined the war again. He was showing great courage in the battles for the territories of Fuzuli region.  During the Horadiz operation his bravery was more than obvious and he was promoted to the rank of the company commander.
10th of February 1994…Jojuq Marjanli village of Jabrayil region…Qorkhmaz's last battle… He killed a lot of forces of the enemy. But he was also killed in the battle.
Qorkhmaz was married and had two children.
Eivazov Qorkhmaz Abish was posthumously awarded the title of "National Hero of Azerbaijan" by the decree of the president of the Republic of Azerbaijan no 262 on the 15thof January, 1995. He was buried in the alley of Martyrs in Sumgait. The hospital in the village of Gulabird in Lachin is named after the hero.
http://www.milliqahramanlar.az/hero/54