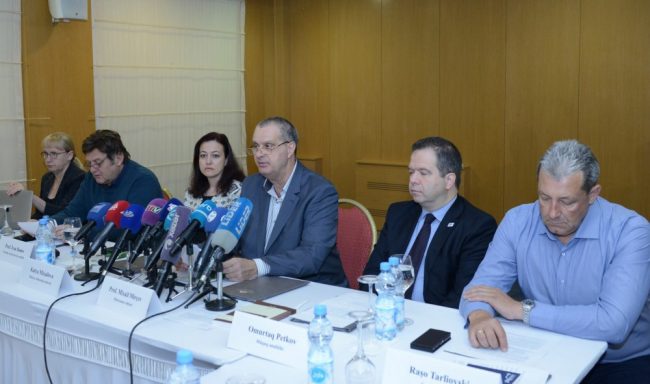 The short-tem election observation mission of the Civil Initiative for Free and Democratic Elections (GISDI), a Bulgarian NGO, is made up of 80 international observers – all from European countries, Mihail Mirchev, head of GISDI, told a briefing in Baku on Thursday, APA reports.
Each of the GISDI observers will monitor the April 11 presidential election in Azerbaijan in four or six polling station, Mirchev said.
He said that GISDI has long-term and short-term observation missions.
"The interim report has been compiled as a result of observations and investigations by the long-term observer mission made of experts in politics, the media, election, law and civil society. The full text of this report will be presented on April 2 and published on GISDI's website," he added.
According to Mirchev, the report presents data on observations of the macroeconomic conditions and system, pre-election situation in Azerbaijan, legal framework and electoral administration, election lists and voter registration, nomination and registration of candidates, election campaign, media's role in the voting process, complaints and appeals, observation on the election day, etc.
Omurtag Petkov, a legal analyst of the GISDI mission, said that the pre-election situation in Azerbaijan is stable, and there are no threats to the electorate's free expression of the will, as well as to holding fair and democratic election.
"Analysis of legal documents regulating the electoral process in Azerbaijan gives a ground to say that there is a legal framework in the country that is completely suitable for the holding of democratic elections in accordance with international standards. Work is constantly underway with voter lists, they are updated and specified. The process of candidates' nomination and registration can be assessed positively, although not all of the unregistered candidates agreed with the CEC's decision," he said.
Petkov underlined that the monitoring conducted so far revealed no serious violations of election legislation.
The analyst said the right to freedom of assembly is ensured in Azerbaijan.
"Summing up the abovementioned, GIDSI declares that all conditions have been created in Azerbaijan for holding democratic and fair elections," Petkov added.
GISDI is Bulgaria's oldest NGO in the field of election observation. It was founded in 1990. GISDI has participated in several international election observation missions. The NGO has been observing elections in Azerbaijan since 2003.