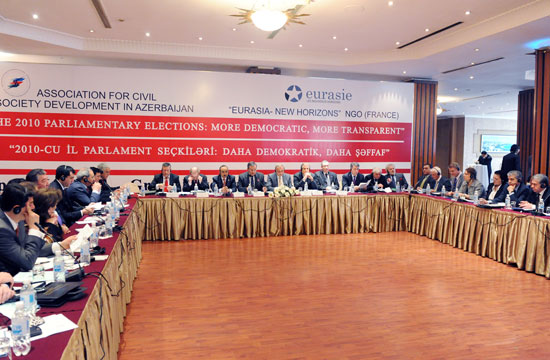 An international conference entitled "2010 Parliamentary Elections in Azerbaijan: more democratic, more transparent" has started in Baku on Friday. The conference was organized by the Association for Civil Society Development in Azerbaijan (ACSDA) and French "Eurasia – New Horizons". Chairman of "Eurasia – New Horizons" Thierry Mariani said Azerbaijan achieved a number of successes in a number of spheres, including political field. He said he believed that the parliamentary elections in autumn would also be democratic.
Chief of the Public Policy Department of Presidential Administration of Azerbaijan Ali Hasanov informed the participants about the socio-political life, political system, administration in Azerbaijan and its geopolitical position in the region. He said Azerbaijan was guided by the democratic principles and tens of political parties were represented in the parliament, the president was elected by the national voting and courts were reformed in accordance with the European standards. "There are political parties, NGOs and media organizations In Azerbaijan, the municipalities were formed and it adopted Electoral Code considering the recommendations of the international organizations. Azerbaijan is able to conduct democratic elections. Domestic political situation, election institutions, protection of the rights of voters and candidates make us to say that. Every citizen of Azerbaijan has a right to vote and to be elected".
Chief of ACSDA election staff Maharram Zulfugarly delvered speech at the conference dedicated to the election experience of Azerbaijan. He said majority election system in Azerbaijan met the democratic principles and this system was used in the United States and other democratic countries of the world. Zulfygarly informed the participants about the ACSDA proposals for improvement of elections system in Azerbaijan.
a resolution was adopted at the end of the conference. The resolution says that the participants of the conference call on the Azerbaijani authorities to continue the ongoing reforms, hope all political parties will participate in the parliamentary elections and call on Azerbaijani ruling circles to continue efforts for creating necessary conditions to hold free and fair parliamentary elections.
The resolution calls on all international organizations and institutions to give full support to Azerbaijan's territorial integrity and sovereignty basing on the UN resolutions, says Nagorno Karabakh conflict between Azerbaijan and Armenia still remains the factor violating the stability in the South Caucasus region, protraction of the conflict impedes democratic reforms of the country.
Session on the theme "Election practices in the modern world" was held at the conference in the second half of the day. Member of the Interparliamentary Union of Spain Lewis Fraga delivered a report "Election models in Western Europe", member of the European Parliament Metin Kazak "Models of parliamentary elections in Eastern Europe", ex-senator Daniel Crane delivered a report "Features of election model in US".
The conference was organized by the Association for Civil Society Development in Azerbaijan (AVCIYA) and Eurasia – New Horizons organization of France.
Representatives of political parties functioning in Azerbaijan, parliamentarians, experts on elections, members of the Central Election Commission and heads of NGOs participated in the international conference.