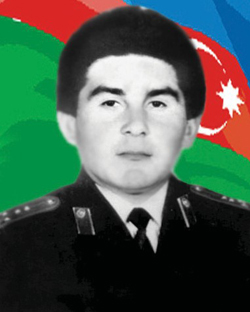 (16.10.1963, Sarchuvar village, Masalli region – 16.2.1992, Garadaghli village, Khojavand region) – National Hero of Azerbaijan (6.6.1992, after his death)
He was born in Sarchuvar village of Masalli region on the 16th of October, 1963. He finished secondary school in his own village in 1981 and was called for military service in the same year. Safarali served in Minsk city. After he was discharged from the army, he moved to Krasnodar city. He was aditted to to the position of the police officer with the help of his compatriots. Hence, he started his career as a supernumerary police officer üithin the Defense department. He was awarded twice during his working years. Considering his extremely good abilities as a police officer and good service, he was sent to study at the correspondence department of Baki Special Police Academy.  After successfully completing his education in 1990, he decided to stay in his home country and continue his career with the rank of lieutenant here. Though he was offered to work at the Baki Airport, he insisted on going to the front lines ad taking active part in the defense of the country. And with this aim, he was appointed as a platoon commander within Aghdam region Internal Department. Since he was blond and fluent in Russian language, he was able to trespass to the enemy side freely and to bring back a lot of enemy captives from Farrukh, Aghbulag and Garakand villages.
February the 16th…1992…Safarali's last battle…When unbidled enemy tragically and cruelly killed the innocent civilans of Garadaghli village of Khojavand region, the battalion under Safarali's commandment moved towards the enemy forces and destroying a lot of military equipment and manpower. The most important strategic positions were occupied by armenians. The brave soldiers of the country were facing death in every step. The combat vehicle which Safarali was driving was hit by the enemy grenade cup discharger and the shrapnels of the discharger hit the hand grenade which he had himself and the commander heroically died in the battlefield.
Mammadov Safarali Gurban was posthumously awarded the title of the "National Hero of Azerbaijan" by the decree # 831 of the president of Azerbaijani republic on the 6th of June, 1992.
He was single.
He was buried in Sarchuvar village of Masalli region. One of the streets in Masalli region as well as the school where he once studied is named after the hero.
http://www.milliqahramanlar.az/hero/150