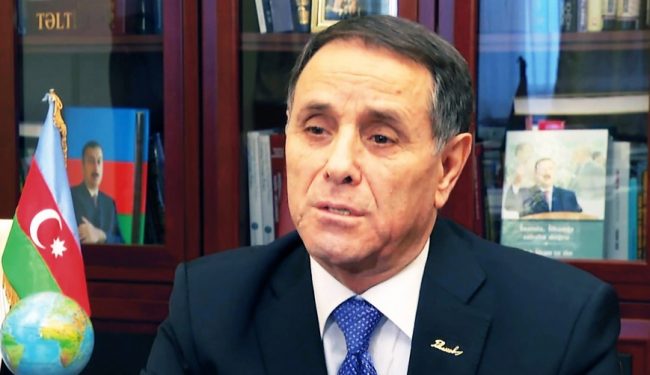 Assistant to the Azerbaijani President for Foreign Policy Issues Novruz Mammadov has commented on the President's Order to call the presidential election at an earlier date.
"Nowadays Azerbaijan is a country that enjoys a unique place in the global community, a country that ensured internal stability, security and sustainable growth and that became the initiator and participant of large-scale regional and international projects. Azerbaijan has proved itself to be a reliable and responsible partner against a background of obvious threats and complicated processes happening all over the world. The country has ensured unity between the nation and its leader, managed to strengthen and protect it even further. Behind all of this are the merits of President Ilham Aliyev for the sake of Azerbaijani people and its statehood as he continues the political line of national leader Heydar Aliyev."
"The internal and foreign political line that the head of state has conducted for the past 15 years has ensured Azerbaijan's stability, security and sustainable growth. Reforms implemented in political, social, economic, cultural, scientific, religious and other fields encouraged serious changes in the quality of society`s life. Thanks to the head of state's political far-sightedness and wisdom the country has turned into a leading force in huge and important international projects as Southern Gas Corridor, TANAP, TAP, Baku-Tbilisi-Kars, North-South Transport Corridor. Today Azerbaijan is an exemplary country that contributes to intercultural dialogue globally through its multicultural and tolerant society."
Novruz Mammadov said: "Therefore, the President of the Republic of Azerbaijan using his constitutional rights adopted a decision and signed an Order to call the presidential election at an earlier date – on April 11 this year." "Calling presidential election at an earlier date is vital in terms of addressing important issues on the government agenda."
He said that in 2018 Azerbaijan will host tens of high-profile local and international events. The events such as Formula 1 race, centennial of the flag of Azerbaijan Democratic Republic, Baku International Humanitarian Forum and others before and after the election could be causing difficulties for the election process. That is why it is reasonable to end the whole election process prior to these landmark events," said the Presidential Assistant.
Novruz Mammadov said: "At the same time, there is a probability that negative processes which became acute in the Southern Caucasus region and neighboring regions might be affecting the region where Azerbaijan is situated. One of the preventive measures to neutralize these negative effects was calling early Presidential election."
"Today there is no any other politician, statesman, leader in Azerbaijan's political environment that might be compared to Mr. Ilham Aliyev. The Azerbaijani people highly recognize the services of the head of state and have endless confidence in him. Both inside and outside the country no one doubts that the date of the presidential election could not make a noticeable impact on its results."