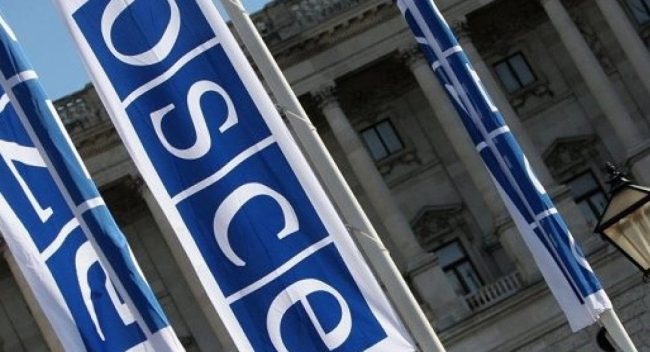 The OSCE Minsk Group co-chairs called on the parties to the Armenia-Azerbaijan Nagorno-Karabakh conflict to intensify negotiations.
"The Co-Chairs of the OSCE Minsk Group (Igor Popov of the Russian Federation, Stephane Visconti of France, and Andrew Schofer of the United States of America) met separately and jointly with the Foreign Minister of Armenia, Zohrab Mnatsakanyan, and the Foreign Minister of Azerbaijan, Elmar Mammadyarov, between 25 and 27 September on the margins of the UN General Assembly. The Co-Chairs were joined in their meetings by the Personal Representative of the OSCE Chairperson-in-Office, Andrzej Kasprzyk. They also met with the OSCE Secretary General, UN Under-Secretary General for Political Affairs, and a representative of the Italian OSCE Chairmanship.
The Ministers continued negotiations on the peaceful settlement of the Nagorno-Karabakh conflict.
The Co-Chairs and the Ministers discussed the situation in the region and sought clarification with respect to several recent statements and incidents of concern. The Co-Chairs expressed deep regret over the continuing and unnecessary loss of life. They cautioned the Ministers about the dangers of escalation, called on the parties to engage constructively in a positive atmosphere, and to avoid inflammatory rhetoric. The Co-Chairs underscored that a comprehensive settlement will require compromises on all sides.
In this context, the Ministers confirmed the importance of taking measures to intensify the negotiation process and to take additional steps to reduce tensions. The Ministers agreed to meet again before the end of the year.
The Co-Chairs plan to visit the region in the near future and will then brief the OSCE Minsk Group and the Permanent Council on the status of negotiations", said in the press statement.
The conflict between the two South Caucasus countries began in 1988 when Armenia made territorial claims against Azerbaijan. As a result of the ensuing war, in 1992 Armenian armed forces occupied 20 percent of Azerbaijan, including the Nagorno-Karabakh region and seven surrounding districts.
The 1994 ceasefire agreement was followed by peace negotiations. Armenia has not yet implemented four UN Security Council resolutions on withdrawal of its armed forces from the Nagorno-Karabakh and the surrounding districts.