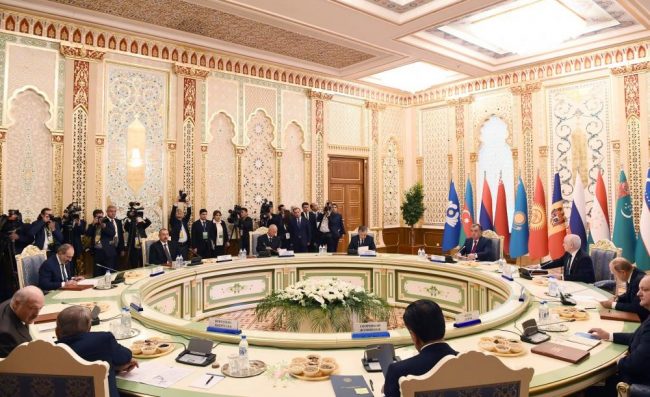 The meeting of the CIS Heads of State Council kicks off in the Republic of Tajikistan on Sept 28, AzVision.az reports. 
Azerbaijani President Ilham Aliyev also attends the meeting of the CIS Heads of State Council in a narrow session. President of Tajikistan Emomali Rahmon welcomed Azerbaijani President Ilham Aliyev for his participation in the current regular meeting and they posed for a photo.
"Tajikistan held more than 40 meetings and achieved to discuss the issues such as the expansion of cooperation and fight against terrorism, extremism, drug trafficking and illegal immigration during its CIS chairmanship", Emomali Rahmon said.
Later, Sergey Lebedev, the CIS Executive Secretary informed the participants about the issues in the agenda.
***
The heads of the CIS member states posed for photo. Later a meeting of the CIS Council of Heads of State will be held in a restricted format.
The heads of delegations are expected to sign 18 documents, and also to approve passing the CIS chairmanship to Turkmenistan in 2019.
After the summit, the Tajik president will host a dinner for the delegation heads at the Iram botanic garden.
According to the CIS Executive Committee, at the meeting of the Council of the Heads of State, the sides plan to exchange views on cooperation in the framework of the Commonwealth, and also discuss issues regarding the chairmanship in the organization, the date and venue of holding another Council's meeting.
At the meeting with delegation members, the sides plan to focus on political cooperation, further development of cooperation in cultural and humanitarian areas, in ensuring security and also a number of projects aimed improving the activity and legal basis of the CIS.
The summit's agenda says that the CIS leaders will make a statement on occasion of the 70th anniversary of passing the Universal Declaration of Human Rights on December 10, 1948. The document stresses the importance of boosting national efforts on ensuring human rights and major freedoms enshrined in the declaration, and also stepping up mutually beneficial and respectful international cooperation in human rights taking into account national and regional specifics, and various historic, cultural and religious particularities of states.
Special attention will be paid to preparations for celebrations in 2020 to mark 75 years since the Soviet defeat of Hitler's forces in the 1941-1945 Great Patriotic War.
The heads of state also plan to discuss an intergovernmental program on joint steps to combat crime in 2019-2023. The five-year program stipulates cooperation in countering drugs smuggling, human trafficking and illegal migration, and also crimes in information technologies.