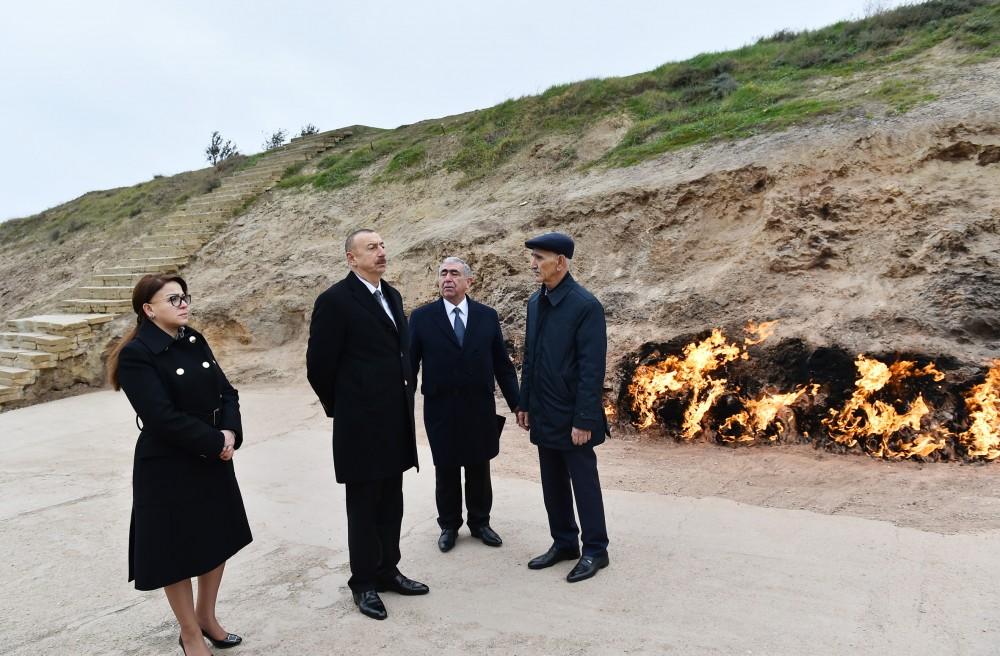 Azerbaijani President Ilham Aliyev attended the opening ceremony of Mehdiabad-Digah-Mammadli highway in Absheron district Dec. 29.
Chairman of Management Board of the State Agency of Highways of Azerbaijan Saleh Mammadov informed the head of state about the done work.
The president was also informed about the construction of Mehdiabad-Fatmayi-Goradil highway. It was noted that the length of the highway, connecting the Mehdiabad, Fatmayi, Goradil settlements, where 16,000 people live, is 6.5 kilometers.
President Aliyev cut the ribbon symbolizing the opening of the Mehdiabad-Digah-Mammadli highway. Then a photo was taken.
Later, the Azerbaijani president viewed the "Yanardag" State Historical, Cultural and Natural Reserve.
Becoming acquainted with the state of the reserve, the head of state pointed to the intolerable conditions there.
He noted that both citizens of Azerbaijan and numerous tourists visit the state reserve, and the conditions do not correspond to the current level of the country's development.
President Aliyev gave a serious instruction to the relevant structures to make sure the problem is eliminated as soon as possible, and high standards will be created for Azerbaijani citizens and tourists.
Trend: