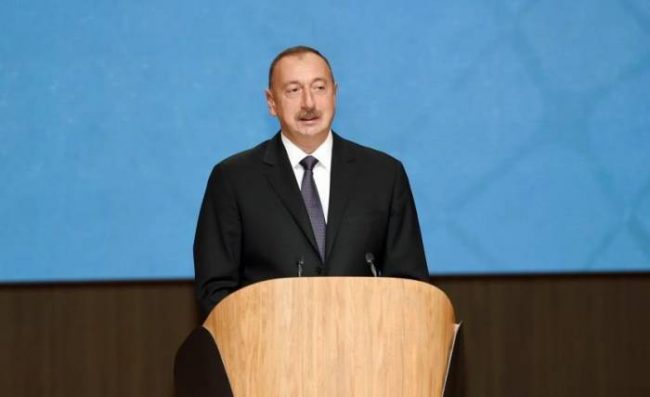 Khojaly Genocide is an unprecedented massacre which was committed against the Azerbaijani population in the town of Khojaly, Azerbaijani president said in his speech at the 6th Global Baku Forum which is being held in Baku.
"Azerbaijan itself suffered from wars, occupation, humanitarian catastrophe as a result of Armenian aggression and occupation of our territory. This occupation lasts for more than 20 years. Almost 20 percent of the internationally recognized part of Azerbaijan – Nagorno-Karabakh and seven districts, which surround Nagorno-Karabakh, are under Armenian occupation.
All the infrastructure was destroyed. All our historical and religious monuments were destroyed. The OSCE fact-finding mission sent delegations and groups of observers to the occupied territories and their reports clearly show that all the buildings and historical heritage of Azerbaijan were destroyed.
Unresolved Armenia-Azerbaijan conflict possesses a permanent danger to stability and peace. We want to resolve this conflict peacefully, but we want to resolve it. Armenia wants to keep the status quo unchanged and ignores the strong statements of the mediators, which are three permanent members of Security Council – France, Russia and United States – whose leaders on many occasions have said that status quo is not acceptable, and status quo must be changed", Azerbaijani President added.
en.azvision.az