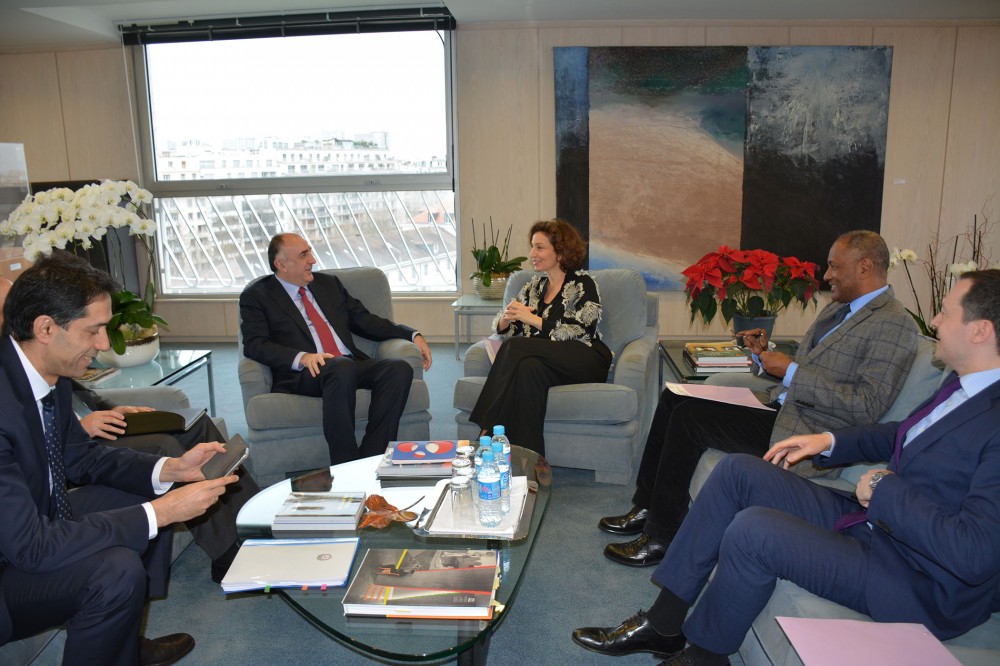 Azerbaijani Minister of Foreign Affairs Elmar Mammadyarov has met with UNESCO Director General Audrey Azoulay at the headquarters of the organization.
Minister Elmar Mammadyarov congratulated Audrey Azoulay on her election as Director General of UNESCO and wished her success in her future activities.
They hailed the important role of UNESCO in the international relations and in the prevention of contemporary threats. FM Mammadyarov underlined the importance of UNESCO to Azerbaijan in this regard and praised the exceptional role of Mehriban Aliyeva, the First Vice-President of the Republic of Azerbaijan, Goodwill Ambassador of UNESCO, in strengthening this cooperation.
They touched upon the importance of Framework Agreement signed between Azerbaijan and UNESCO in 2013 and the Trust Fund (US $5 Million) established on the basis of this agreement.
Within the framework of this agreement the projects funded by Azerbaijan have been defined in the fields of education of girls in Africa, the priority area for UNESCO, as well as the protection of the intangible cultural heritage, and science and technology in other countries.
Minister Elmar Mammadyarov briefed the Director-General on the multiculturalism and traditions of tolerance in Azerbaijan and said that Azerbaijan and UNESCO enjoy very successful cooperation in the field of intercultural dialogue.
The minister pointed out that the "Baku Process", which started in 2008 on the initiative of the President of Azerbaijan Ilham Aliyev, saying that this year marks the 10th anniversary of this successful project.
Audrey Azoulay described UNESCO's cooperation with Azerbaijan as important and commendable in the field of intercultural dialogue and underlined the importance of continuing joint activities in this area.
FM Mammadyarov provided an insight into the humanitarian projects implemented by Azerbaijan International Development Agency (AIDA) of the Ministry of Foreign Affairs in the member countries of the Non-Aligned Movement (NAM) and expressed Azerbaijan's readiness to cooperate with UNESCO in the member states of NAM, especially in the support projects for the African states.
The UNESCO Director General welcomed such kind of cooperation and noted that one of the key areas for the Organization is the restoration of cultural heritage in the Middle East.
Minister Elmar Mammadyarov noted that Azerbaijan is sensitive to the issue of cultural heritage protection and emphasized that cultural monuments of his country were purposefully targeted and destructed by Armenia in the occupied territories of Azerbaijan. The Minister said that the OSCE monitoring mission also confirmed these facts and invited UNESCO to join the monitoring process in theyears ahead.
FM Mammadyarov invited UNESCO Director General to pay a visit to Azerbaijan.