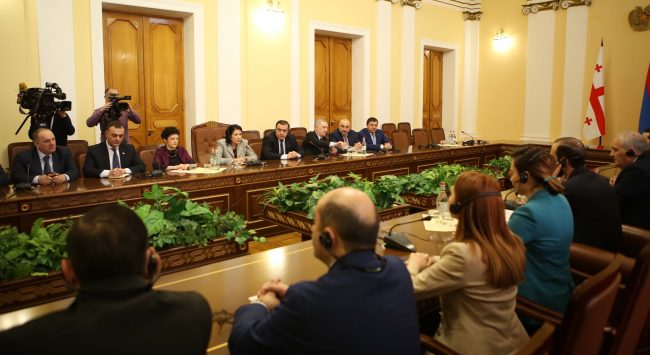 "The Nagorno-Karabakh conflict should be solved peacefully and on the basis of international norms," Georgian President Salome Zourabichvili said at a meeting with Armenian parliament speaker Ararat Mirzoyan in Yerevan.
She noted that the visit of Nagorno-Karabakh separatists to Abkhazia and South Ossetia and their talks on these conflicts which are the same and symmetric are sad and painful issue for Georgia: "These conflicts impede the development of our region. Georgia has two occupied territories, and if we talk about the country's interests, then one single concern for us is recognition of our sovereignty in deeds than in words."
Zourabichvili stressed that the format of the Minsk Group and the Geneva negotiation is passive: "These formats can not make political decisions that can make a difference in the situation. I think that we must work together to achieve a new stage in resolving these conflicts on the basis of international norms.
The Head of State noted that the non-Georgian conflict is very painful for Azerbaijanis and Armenians living in the country: "If this conflict moves into the Georgian state, it can be devastating for the country. Therefore, all conflicts should be resolved peacefully and internationally. "