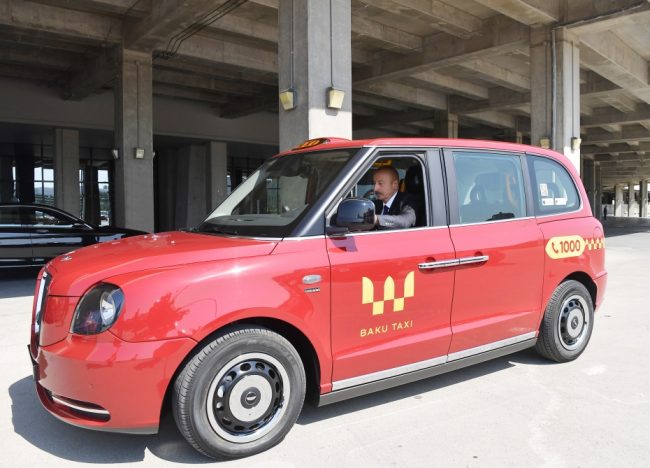 Meeting modern standards, 100 new six-seat LEVC TX model of London taxis of the Baku Taxi Service Limited Liability Company under Azerbaijan's Ministry of Transport, Communications and High Technologies are ready for service.
President of the Republic of Azerbaijan Ilham Aliyev has today viewed the new taxis.
Minister of Transport, Communications and High Technologies Ramin Guluzade informed President Ilham Aliyev about the features of the new taxis.
The minister noted that both the driver and passengers of the new taxis were provided with complete safety and comfort. The new LEVC TX taxis have a number of advantages. In particular, this model of taxis run on electricity, not fuel. The smart configuration car runs up to 130 kilometers on pure electricity and then it is possible to change the mode. This means zero damage to the environment.
The new taxis are completely safe and comfortable for both drivers and passengers.
The cabin is wider than in other London taxis and has six seats. The cabin is also equipped with a wifi network and power outlets.
There is a glass partition between the driver and passengers in order to minimize contact. This is very convenient in terms of isolation and social distancing during the pandemic. The cabin has a special microphone for communication with the driver, a control panel in Braille for visually impaired passengers, and an instruction board for the hearing impaired. The car is equipped with a ramp for the disabled. It will be possible to make payment in these taxis via a POS-terminal.
President Ilham Aliyev was informed that 1,200 taxis of the Baku Taxi Service LLC currently serve the residents in the capital city. London TX4 models are for 5 people.
The cars equipped with the Android system, also provide a wide range of options to drivers. Drivers have the ability to control the entire process using a monitor.
President Ilham Aliyev then drove the new taxi.