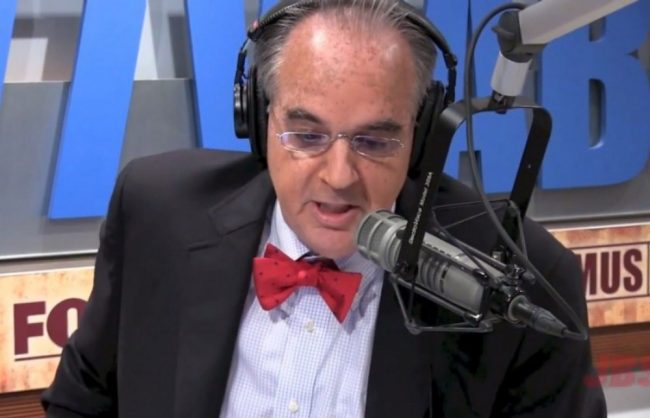 John Batchelor, the host of the popular American radio program "The John Batchelor Show", who dedicated a series of programs to Azerbaijan, visited Terter region, the line of contact of the Nagorno-Karabakh.
In his tour of Gapanly village of Terter region, John Batchelor was accompanied by Head of Terter District Executive Authority Mustagim Mammadov and General Commander of the local forces Hikmat Hasanov.
In the beginning of the interview, John Batchelor mentioned that what he saw in this last hours was alarming because he did not know this was going on, nor did he know the damage that was done to the people who live in this area.
Head of Terter District Executive Authority Mustagim Mammadov said that the Gapanly village is very close to the contact line which is 200-250 meters from the Armenian occupying forces. "As you saw there is no free land here. The daily work of the people here is agriculture and they are producing their own products. So they are doing agricultural work daily."
John Batchelor said that there is a great concern that at any moment there could be a trouble again. "There was a trouble, very bad trouble right here where we are right now in April of 2016," the host added.
Highlighting the situation on the frontline, General Hikmat Hasanov said: "Our main mission here is to protect all the villagers that are near the contact line, all the villagers. So, the main mission is to protect them. I don't believe that this is a frozen conflict. I believe that as a country we will be able to restore our territorial integrity and we will be able to regain our occupied lands."
Touching upon the measures to develop agriculture in Terter region, Mustagim Mammadov said: "From the end of May until the early November Armenians cut off the water supply to Terter, so we have to provide our lands with water via artesians. And that is the main obstacle."
Commenting on the 2016 April events, he said: "President Ilham Aliyev and First Lady Mehriban Aliyeva visited this region right after the war. The head of state ordered all the 256 destroyed houses to be rebuilt again. There were two schools that were destroyed. They were also restored and rebuilt."
Responding to John Batchelor's question about what is the main concern regarding this settlement, Mustagim Mammadov pointed to the fact that the civilians are being attacked every day. "They are being attacked during their daily life, when they are in the farms and when they are trying to grow plants the Armenian forces are shelling them and the civilian population. So, our main concern is that here the civilian population is being attacked."
"But if April events repeat again, Azerbaijani people are ready to fight for their lands. The occupied territories are our native lands and we must always be ready to return these lands," he added.
John Batchelor was in Azerbaijan from July 29 to August 4.