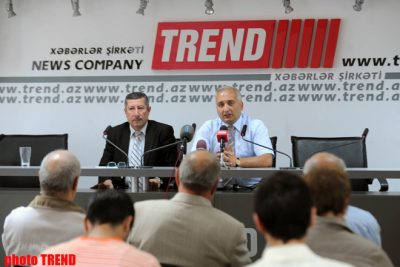 The Azerbaijani Association for Civil Society Development prepared a program of activities for the parliamentary elections.
"The program of activities for the parliamentary elections has been established in accordance with the instructions of the OSCE. Its main purpose is to promote civil society. Monitoring of the elections showed progress in the conduct of elections in Azerbaijan", the association vice president Veli Alibayov said during a briefing at the press-center of AMI Trend.
The parliamentary elections will be held in early November. The association observed the previous elections for legislative body.
The organization began preparation for the parliamentary elections in March, the association electoral staff head Maharram Zulfugarli said.
"From June 1, the activity of the Association offices will be coordinated in preparation for the elections. Regional workshops will be held to enhance the activity of the population in the elections. Conducting of trainings for observers is also envisaged. Monitoring will be carried out before the elections, during and after the elections. We will monitor the activities of the Central Electoral Commission. Violations will be displayed in the interim report. This report will be published in early November, " Zulfugarli said.
He said the current format of Azerbaijani electoral commissions, the holding of elections under the majority system are stable for the government. "We believe that it is important to release the commissions from the influence of party monopoly," Zulfugarli said.
/ Trend M. Aliyev /