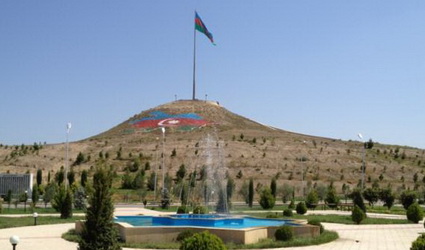 Aghdam– Region of Azerbaijan, today great part of its territory is under Armenian occupation including administrative central Aghdam city, too. Only 10 villages of Aghdam are under the control of Azerbaijan in accordance with occupation.
54 medical institutions, 79 cultural centers operated in this region before Armenian occupation.
History
Agdam region was established in August 8, 1930. Relief of region is mainly plain, partly mountainous with 1154 sq/ km area.
Aghdam region is situated in the center of Karabakh, an old land of Azerbaijan with charming nature – in the north-east foothills of Karabakh mountain range, in the west of Kur and Araz Lowland. Ancient historical monuments of Aghdam, considered the heart of beautiful Karabakh, have come up to date passing through thousand years. Since the 50s of the twentieth century archaeological research in this area revealed that the territory of Agdam is one of the oldest human settlements. During archaeological explorations in the place named as Uchoghlantepe by well-known archaeologist Ideal Narimanov it was cleared that, primitive ancient people lived in this territory six or eight thousands years ago, during the Chalcolithic period (covers 4-6th millenium B.C., is called as "copper-stone" period), acquainted with cropping and cattle-breeding culture. The scientist revealed pottery, smeltry, jeweller's art, material and spiritual monuments about the Chalcolithic and Bronze Age (first half of 2nd millenium B.C.) during archaeological explorations carried out in Leylatepe and Uzerliktepe places have been ancient living areas of the region. Grain and grape remnants found here proved one again that indigenous population have spent sedentary life and had culture of high tillage. After the investigations in Uzerriktepe archaeologists in accordance with material and cultural remnants note that here had been first residential area of Caucasus in the type of city, one of the places having the richest monuments in Transcaucasia. The immense Kurgan of Bronze and Iron Age (covers 19-13 centuries B.C.) found in the nearness of Sarichoban village of the region in the middle of 80 years of 20th century is more valuable monument for the historical peculiarity. Material findings inherent to 12-13 centuries B.C. found in the Kurgan indicate that this monument is the grave of a rich man. And it is the best visual proof about beginning of social and labour inequality and disintegration of primitive communal system in Azerbaijan for this period.
Later on primary government bodies began to be formed as a result of historical process in Azerbaijan. One of such states was Albania slavery state appeared in the Northern Azerbaijan. According to the information sources, there were 26 tribes, one of them Gargars having superior culture settled along the Gargar River in the territory of Aghdam. It visually proves that Aghdam played an important role in the primary state building in the territory of Azerbaijan.
Geography
Height is 410 metres from sea level, maximum height is 1365 metres. Climate is mainly mild hot and dry subtropical. Climate becomes mild when height increases in the foothills places. The most rainfalls fall to foothills areas. Annual rainfall is 300-550 mm.
Gargar and Khachin Rivers flow in the territory of the region.
Territory of Aghdam region is situated in the contact zone of Lesser Caucasus mountains and Kur-Araz Lowland. Region area is 1094 square kilometres, population is 165 thousand persons (1998). Geographical situation allows very suitable conditions for living and economy. Region is mainly located in the foothhills part of Karabakh Plain. Here plain has sloping 40 square metres (in the top of Aghdam city), 20 sq.km (Gulluje- Kizil Kengerli area), 13 sq.km. (in the bottom of Aghdam city), 10 sq.km (Garadaghli -Chamanli villages), rises 450-500 m absolute height. A deep tectonic crack passes through mountains and plain.
This relief creates signs of sharp passage. Height of Karabakh Plain reduces gradually in the direction of North and East and goes down up to 120-130 metres in the borders of Aghdam by Tartar, Barda and Agjabadi regions. Surface of plain became shattered too weakly related sloping being little.  Erosion section increases only in the Gargar, Khachin rivers and their bed of abandoned branches and reaches 6-7 metres or 10-15 metres. This pecularity of relief provides fitness of all territory for tillage, makes irrigation system and use of economic machines very easy, protects lands from erosion processes, increases their fertility and productivity.
Washout of surface and lands is related to irrigation and is much negligible.
Territory of the region stretches 15-16 km as far as North-East foothills of Karabakh range along the valleys of Gargar, Khachin, Gabarti, Papravand (Gulyatag), Gulabli rivers. Absolute height reaches  600-700 metres in these places. Maximum height is 1365 (Kolani) metres. This part of the region specially enlarges in the bottom of Khachin River, Derbent lowland. A number of ranges, divisions and hills are located in Aghdam part of mountains.