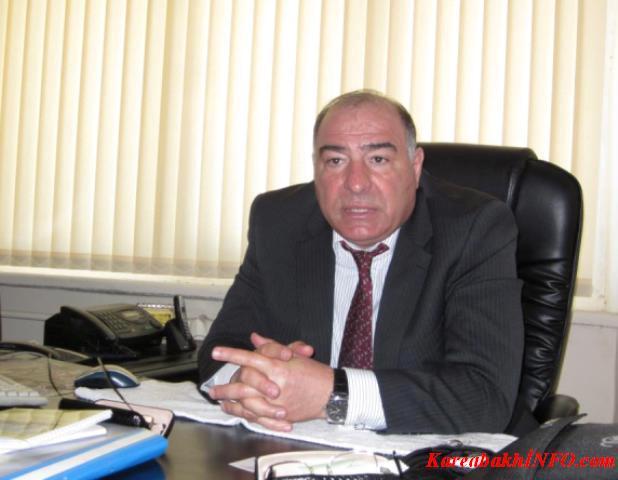 I would like to welcome all participators and our foreign guests. I would like to focus on some issues.
Firstly, the project presented by Mr. Suleymanov is one of the main problems to be solved in Nagorno Karabakh issue.
You can ask me why I have such an opinion. My answer is: firstly, Armenians psychology. We meet foreign experts 3-4 times a year and these experts participate here today. Azerbaijan government raised a question for some times, but so far Armenians have never applied with application and agreed to solve the problem together. This is the first time that Sarsang water reservoir is proposed for speaking about concrete activity against Armenians.
Why? Because Sarsang water problem is a big general problem regarding with the international safety.
As you know, there are above one million refugees in Syria, about 500 thousand people were killed, but American state raised all Europe for using biochemical weapon. Why? Because, one system causes much damage to the international safety and international laws are violated.
Today much is done widely and Mr Suleymanov has done much within these 3 months. August, September and October – what organizations have been applied and addressed regarding with this issue. Generally we should present this problem referring to international safety.
I would like to ask you to look at these slides. You will be able to see the tragedies happened in hydropower systems regarding with water, these tragedies happen all over the world. I would like to show the slides one by one.
Thus, since the VIII century up today there was made statistics of the tragedies happened in water reservoirs and hydropower stations. It was defined that since the VIII century, once in every five-year disaster there was an accident in one water reservoir, a big accident happened there. Since 1975 up today once in every fifteen-year there was an accident in water reservoirs and averagely 50 people dead. I haven't touched upon economic potential yet.
Besides, I would like to give some examples. Tragedy emerged in San Francisco, California, because of using technical constructions wrongly in a big water reservoir on March 12, 1928. Height of wave became 40 meter. It lasted fully 80-kilometer area and 300 people dead there. As well as big accidents emerged in water reservoirs in different locations of the world in 1941, 1959, 1975 and 1993. I will show you pictures.
One of the recent accidents was in Sayana Shushenskaya dam (hydroelectric power station) of Russia in 1979 and another accidents emerged in 1985, 1988 and 2009. 1 million and 200 thousand people were generally removed from their lands and 140 thousand people dead as a result of collapse in 3 water reservoirs for 3 times in China. Now can you say, what does this statistics give us? If we present this project, we should surely refer to the showings of international statistics and what is related with the result of this statistics.
The second issue is that Mr. Suleymanov has done much among the European organizations, but we should think, what tool to present, which will work. As Barak Obama mentioned, what can we present by this project not crossing a red line. Firstly, agreement on ceasefire has been signed between Armenia and Azerbaijan since 1994. Minsk Group makes peace negotiations and makes measures in order to overcome the obstacles for peace negotiations.
If any tragedy happens in Sarsang, according to the opinion of our experts it will serve as a basis that a peace agreement could fully be terminated and again ceasefire could be opened.
Secondly, what organization should we apply today? This is a very big issue. So far, we have never met this in practice, however Economic European Commission is directly engaged in their safety. As far as you know, urgent problems occurred in usage of water reservoirs in Asia. Economic European Commission made expertize on this issue and as a result of this expertise, project was implemented with the finance of Finland state.
As mentioned here, we should surely organize international expert group and this group should carry out technical expertise. No expertise has been made more than 20 years and no one knows its state. We don't know what tragedy may occur. We are sure 100% that expertise opinion will describe which measures should be made and how much finance is needed. Neither Armenian state nor the so-called "Mountainous Nagorno Karabakh Republic" has got this finance. Naturally, they will do nothing and will apply to the international organizations. We can submit to the Minsk Group this expert opinion and an opinion signed by UN experts and can raise a question about making measures in concrete direction in order to overcome this massacre. This is briefly our proposal. Thank you.