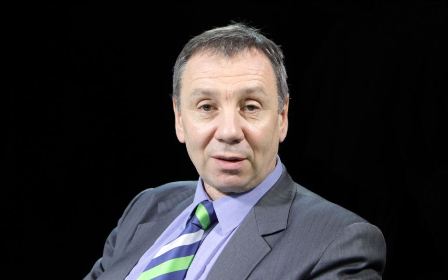 Dear friends, I would like to speak Russian if you do not mind.
First of all, I would like to thank organisators of this conference for invitation.
To speak frankly, I am glad to be in Tartar district, where I've never been. I met even more diverse with the beauty of Azerbaijan. I've now come out to give a brief interview to BBC radio on the Syrian issue, I even specifically said that I was not just in Azerbaijan, and in Tartar district.
So, on behalf of the Public Chamber of Russian society I wish prosperity, development, economic growth and peace to Terter district. I would also like to thank Elkhan Suleymanov for organizing this conference, for the fact that he pays so much attention to this problem. Because this issue is of great humanitarian significance. The issue should be resolved.
I can not stop myself of saying that when I listened Elkhan Suleymanov I had the pleasure of his oratorical skills. He is an excellent speaker – I would like to congratulate him on this behalf. I know that Mr. Suleymanov actively protects the interests of Azerbaijan in various international areas, and all we could see how convincing he gets there.
You know, erstwhile I knew nothing about this issue, to be honest, up until Elkhan called my attention to it. And I realized that this is really a serious problem concerning thousands of people. Indeed, it has a very important ecological significance.  Environmental disaster may occur, and we must do everything to prevent it. That is why I think a large-scale environmental investigation should be carried with the participation of international experts and independent organisations.
I agree with ecologist, who said that a lot of disasters in the world happen due to the hydroelectric power plants. And the main cause of all these disasters is that there is no proper engineering controls to ensure everything was correct. Here, obviously, no such control.
So, I think it's important to carry out an investigation, which would estimate the probability of an environmental disaster and its possible damage. And all this must happen on international level. So that is ecologists' job.  But there is work for economists too, because here comes the systematic undermining of socio-economic situation of thousands of people.
You must know that, access to clean water is increasingly considered as one of the fundamental rights of the people by international society. More and more mahor international organizations spendmore time on this issue.
I think the problem of Sarsang water reservoir must be reflected in this picture of struggle of humanity for people's access to clean water.
There's even a good job for political scientists, because in fact we are dealing with environmental weapons. First of all this is threat of the use of large-scale discharge of water as environmental shock, and secondly, it is the systematic use of environmental pressure by water discharge – in the winter it is discarded when it is not needed, and in the summer, when they need it, on the contrary, tyey close it. Most political scientists, military experts in the worls argue on how ecological weapons would be used in the future. And here, in fact,  we have example how it is already used. I think we must consider the problem from this point.
And of course, there is a good job for politicians, too. Because this problems must be not only discussed, but even resolved.
I know that President of Azerbaijan Ilham Aliyev pays great attention to the resolving of Karabakh conflict. And he repeatedly told me about this when discussing problems. For him, it is indeed cardinal problem of development of Azerbaijan.
I am sure this problem would be resolved one day. Great development, which we can see in the country, makes us think so. Development of Azerbaijan, which is leader in almost all spheres in post-Soviet space is adorable. hus accumulates potential that will eventually be used to resolve this cardinal problem. Of course, it is better to do this by peaceful means, as correctly noted speakers and Elkhan Suleymanov also talked about this. I think you can trust Russia's friendship in this issue.
We all have witnessed an impressive magnificent visit to Baku of  Vladimir Putin just a few weeks ago and is very friendly, and full of promising talks between Vladimir Putin and Ilham Aliyev. For us, of course, the people of Azerbaijan is the brotherly people, and Azerbaijan is a brotherly country, you can be sure in this. We hope Azerbaijan would continue its development and elections would be successful and we, according to our lights will help the development of our friendship.
Thank you. We're ready to support this process by all means.