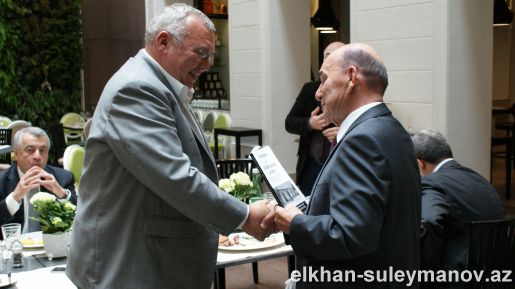 "We call on immediate action from the international community to prevent any scenarios of military diversion and to be prepared for any accident or natural disaster which will provoke massive human causalities under the current circumstances"
The interview of Elkhan Suleymanov, MP from Shamakhi and President of the Association for Civil Society Development in Azerbaijan, the organization which realizes large-scale project aiming at preventing a possible humanitarian catastrophe in Sarsang water reservoir to APA.
– The Association for Civil Society Development in Azerbaijan, which you chair, announced the start of the project aiming at preventing a possible humanitarian catastrophe in Sarsang water reservoir. Which factors forced the organization for civil society development to address such a topic?
– People who are not familiar with the activity of the ACSDA and the goal of the project may be really surprised at this issue. However, I'd like to note that ACSDA has done a lot for 10 years not only in the sphere of problems of civil society, but also realized many social projects, as well as for the delivery of the Armenian occupation to the world. Project on Sarsang water reservoir is one of such ones. Sarsang reservoir, built at 726 meters above sea level (with dam of 125 meters high and capacity of 560 million cubic meters) on Tartar River in 1976 is under the occupation of Armenia since 1992 and is in an emergency condition due to the lack of technical maintenance. Taking all these into consideration, we want to draw the attention of the world community to dangerous condition of Sarsang reservoir, being of vital importance for Azerbaijani inhabitants of surrounding non-occupied provinces in Azerbaijan, due to lack of maintenance as a result of occupation, danger to the lives of 400,000 population of 7 provinces of Azerbaijan because of threat of possible collapse for various reasons, and to mass casualties of citizens and to a new humanitarian crisis in case of a possible accident.
The main purpose of the project is to strongly condemn the illegal blockade by Armenia of water supplies and irrigation systems in the occupied territories of Azerbaijan, being in breach with fundamental principles of international law, to consider this abuse of power by Armenia as inhuman, and to force Armenian military forces to hand over their illegal control of this water reservoirs and related irrigation systems to the Azerbaijani authorities, in compliance with previous international resolutions. We call on immediate action from the international community to prevent any scenarios of military diversion and to be prepared for any accident or natural disaster which will provoke massive human causalities under the current circumstances.
– Armenian occupation against Azerbaijan continues for over 20 years, and more than 1 (one) million people live the lives of refugees and internally displaced people. To what extent is it convincing that the international community, turning blind eye to these facts, will seriously react to the question of Sarsang water reservoir?
– You're right, but it doesn't mean that we should give up struggle. Armenia has carried out an armed aggression against Azerbaijan, waged a  war, and occupied 20% of our territories, including Nagorno Karabakh and 7 surrounding provinces, for about 25 years. Armenia is an aggressor, and Azerbaijan is a party, exposed to aggression. International organizations have passed several resolutions on the issue condemning the aggressor and demanding the liberation of the occupied territories during these years. But it's also true that none of them have been implemented, and in fact, one of the reasons why these resolutions have remained on paper is that no sanction is applied against the aggressor state in these documents.
The question is that the international organizations approach the issue with double standards, do not distinguish between aggressor and the party, which was exposed to aggression, mostly ignore Nagorno Karabakh problem in general, and in many cases defend Armenia, and are not willing to discuss the problem on different excuses. Thus, it is naïve to expect an objective position from international organizations on the occupation of Nagorno-Karabakh conflict. We should know the only truth that though fair solution of the problem within international legal  norms is in the capacity and will of those organizations; they will not do and even are not going to do anything in this regard. We should understand that we, ourselves have to raise our problems, show persistence on this issue, be systematic, and continue to inform international community with various legitimate means until we achieve our goal. Therefore, one should be patriot, hear moaning of our lands, work diligently, show complex approach to every issue, and the most important – love Azerbaijan. Each Azerbaijani citizen should systematically fight for the solution of these problems. In this case, we can receive adequate and objective reaction from world community.
– The project has been launched for a month. What was done and what results were achieved in that period?
– Actually, 18 months project can hardly achieve any results from the first month. Although we have implemented many activities during this month. The first phase of project is to inform the international community and organizations about the problem. The issue of Sarsang water resorvoir was voiced in two interntional conferences held on 23-24th of May in Baku "Annual Conference of Parliamentary Network on World Bank and International Monetary Fund" and on 10th of June in Vienna "Geopolitics of Azerbaijan and Energy Security of Europe". 9 articles on the essence of the problem were disseminated in international press in English, French and German.
Serious danger for inhabitants living in the downstream as disrepair of dam located in the territories occupied by Armenia lead to the environmental disaster, Armenian control over the dam, which was built for irrigation, parch of six downstream provinces in summer, thus, loss of more than 460 species of wild trees and shrubs  – 70 of which grow nowhere else in the world – as well as four species of mammals and eight species of birds, and flood of the territory with 400,000 inhabitants in the event of destruction or damage to the dam. So far, these articles have been disseminated in about 3000 online websites of the world. Wall Street Journal, Boston Globe, FinanzNachrichten.de Yahoo!, Deutsche Presse Agentur's Presseportal, New York Business Journal and others were among them.
The second purpose is to draw international organizations' attention to the problem. We have made progress in this direction as well. Since our enemies are regularly checking our press, I don't want to say anything specific today.
The project includes formation of experts' group from local and international experts. During the past month, we established contacts with local and international institutions. We can introduce prominent experts' groups to our society in near future. Besides, we will ask opinion of famous foreign consulting company regarding the current state of Sarsang water reservoir. Then we will try to organize visits of experts' groups to the region.
The implementation of such a big project definitely needs relevant material and technical resources. We have addressed to several local and foreign donors to get support and already received positive responses. It means that our project will continue and we will achieve our goals.